Join Stacey Clare's FREE 21-day Wholefoods Breakfast Recipe Challenge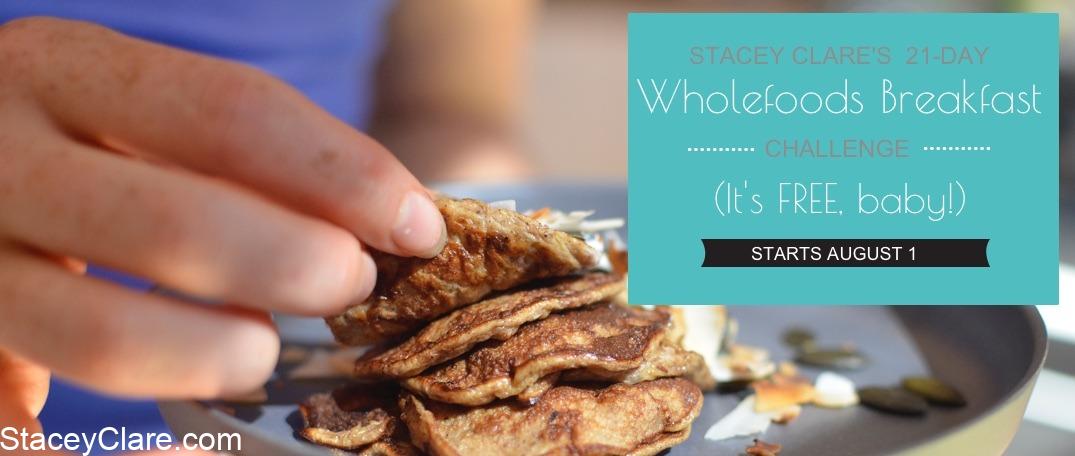 CHALLENGE STARTS AUGUST 1.
PLUS: Click here to join the FREE Facebook Wholefoods Breakfast group now.

Heya, I'm Stace and I'm all about 'Quick & Healthy' breakfasts. I'd love you to join my challenge for a bunch of free wholefoods breakfast recipes, shopping lists, videos and tips to get you and the babes eating a healthy, real food breakfast everyday.
Join here, baby:
Why others have loved the challenge:
"My kids didn't eat Weetbix for 3 whole weeks. Hooray!"
"The whole family loved the recipes"
"The kids behaviour was so much better."
"The breakfast challenge helped me re-focus on my health!"
"I loved that Stace made me think differently about breakfast. I never would have thought about eating leftovers for breakfast. All her tips to use up leftovers are brilliant. "
"My body is feeling amazing by shifting away from my carb addiction and focusing on good fats and protein instead. I think I've even dropped a few kilos."
"Stace's Facebook group is great - we've all been discussing ways to alter or use rejected / leftover elements plus tips and tricks to save wastage & time! That is so helpful especially if trying a new recipe."
I challenge you to start the day with a healthy, wholefoods breakfast for the next 21 days.
Breakfast is so often the forgotten meal. It's the most rushed, easiest to skip and the one we add little variety to but it doesn't have to be this way. If you eat a great, healthy wholefood breakfast then a 1/3 of your day is already fantastic. I can help you tweak what you're already doing.
Making a real, wholefoods breakfast is not about keeping you in the kitchen for hours, I'm a mumma of two tiny babes don't forget. I'm talking about tweaking what you're already doing – serving your dippy eggs with carrot sticks, cooking whole oats instead of the instant variety and while you're at it, hanging up the 'shake and make' pancake mix and making your own from scratch with just 3 ingredients.
Let me show you how eating a real, wholefoods breakfast can be super quick and easy…
I'll hold your hand the whole way during my Stacey Clare's 21-Day Wholefoods Breakfast Challenge. I'll make it super simple to make change by sharing recipes for the whole family along with weekly shopping lists, videos, tips and tricks. What have you got to lose? Come and be part of my real, wholefoods family.
The ingredients I'll be encouraging you to buy are everyday ingredients – none of this farfetched business. In fact, the majority you'll already have in your cupboard. Take my 3 Ingredient Pancakes, for example. You just need a banana, 2 eggs, a spoonful of cinnamon and a super hot frypan and these babies are ready to go. I'll provide alternatives for the not-so-familiar ingredients plus lots of different ways to use the whole packet so there'll be no waste. You never know, you may discover a bunch of new breakfast favourites. Oh and I'll also share with you lots of tips on how to tweak the recipes to cater for any allergies or 'picky eaters' you may have.
During the challenge, you should eat as normal and still move your body. Heck, you might be so inspired that you'll want to add even more real wholefoods to your diet. I know for me, once I solved breakfast, I had enough energy in my days to solve lunch and dinners too. By the end of the 21 days, you're going to be feeling ace and breakfast may have become your favourite meal of the day. Let's do this!
Check out some of the delicious wholefoods breakfasts you'll be making
It's tricky to convince you to take on a challenge without showing you some of the delicious food, right? I hear you, baby.
Here are a few pretty-as-a-picture snippets of what you're set to create: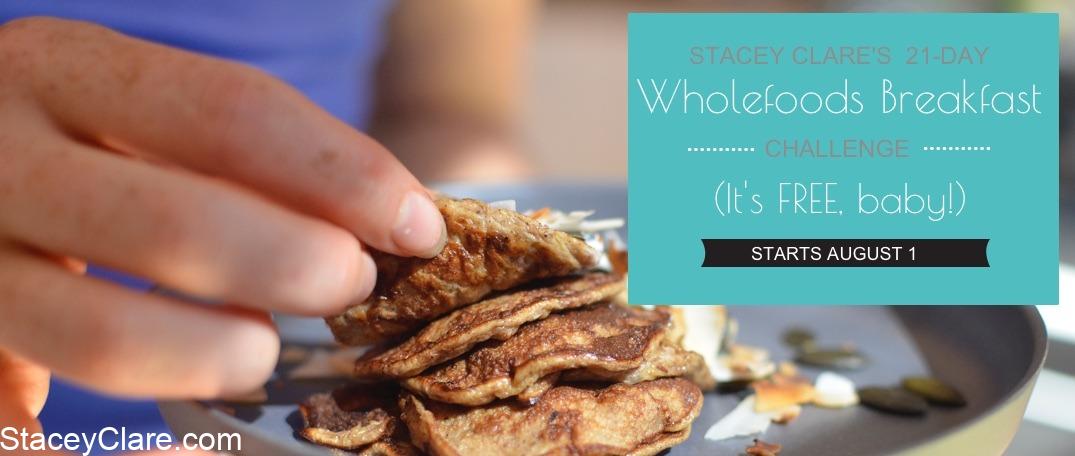 3 Ingredient Pancakes – Perfect for making in bulk during the week and popping the extras in the babes' lunchboxes for morning tea.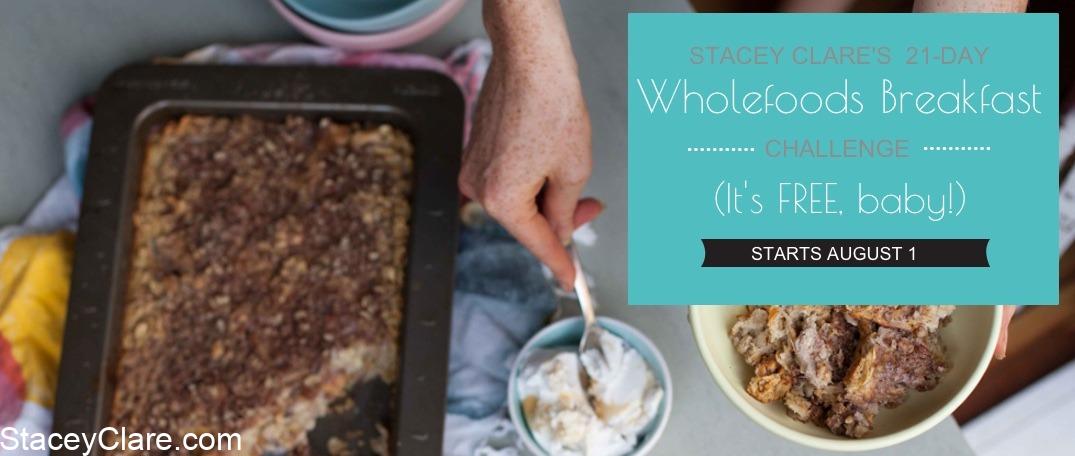 Baked peanut butter and banana porridge - This wholefoods Peanut Butter and Banana Porridge Bake is by far my favourite breakfast to make. On weekends, I'll make everything up and pop it in the fridge overnight ready to bake in the morning so we can enjoy it nice and warm. Great cut in to portions and frozen for busy mornings.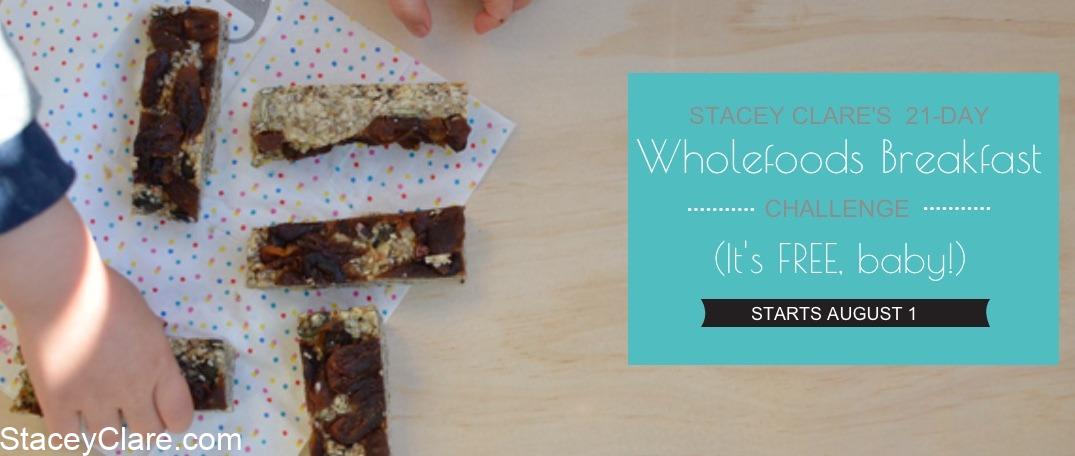 No-bake muesli bar –I love these because not only are they super awesome for breakfast, they are just as great added to the kids' lunchboxes (keep them cold) or frozen to use on a busy morning. The recipe makes 20 bars so you'll have lots of leftovers. If you're not an apricot lover, feel free to either leave them out or replace with a different. Catering for an allergy: Dairy free: Switch the butter for coconut or macadamia oil Fructose free: Leave off the apricots and use only rice malt syrup in the bars Wheat free: Use quinoa or rice flakes instead Nut free: Make the recipe as is. If nuts aren't an issue feel free to sub the mixed seeds for your favourite nut and the tahini for a nut butter. And a little sneaky preview...here's the recipe here.
FAQ's of the challenge
How many people will each recipe serve?
Each recipe will serve 4 people and the occasional recipe will have leftovers that I promise will be perfect for kids' lunchboxes or a snack during the day.
I have allergies. Will you cater for those?
I've got you, baby – I cater for them all. I'll have tips for the high-allergy ingredients and ideas on how you can swap them for safer alternatives. I also have oodles of information on my website about how to tweak for allergies.
Stace, am I going to be cooking something everyday? Because I don't have time.
Nope not at all. You'll get 3-4 recipes each week that will do you for the whole week.
Wait, what's wholefoods? You're not selling me a crazy diet are you, Stace?
Nope, wholefoods is a general term us health folk use for real, processed food. Think of it this way, a 'whole oat' is the wholefood version of a 'quick oat' because it hasn't been steamed, pressed and processed to buggery. Supermarkets sell these, you'll have to look a little harder but they are there and best of all your local markets and health food stores pretty much only sell these, so you will be able to get all you need with ease.
I want to start now. Is there anywhere I can get the recipes?
There sure is. Pop over here and buy the 'Quick & Healthy Breakfast' eBook. You'll get 60+ breakfast recipes as well as oodles of information on how to cater each recipe for allergies, stack your pantry with goodies and lots of meal plans to make your planning that much easier.
What day do you send next week's shopping list? I like to keep organised.
I'll send them on a Friday night for the next week. That way you can get your shopping done on the weekend or when it works best for you. Keep in mind you choose which day you want to cook which recipe, this challenge flows just how you want it to.
How long will each recipe take to cook?
Between 30 seconds and 20 minutes. If you like to get super organised (or you know that mornings are crazy so you cook breakfast when you're making dinner the night before), then I have your back – I love organisation.
Mornings are complete chaos in my house. Really, can I do this?
These recipes range from 2 ingredients to 10 and all are made quickly. The best part is, you can make them in bulk and freeze some or even make a double serve of something so you can have it the next day. Make your own rules, baby.
Tuesdays I leave the house at 5am. I can't make breakfast. Any tips?
I've got you. The meal plan and recipes are loose and there are always MULTIPLE recipes you can make the night before. Yep, remember those 3 Ingredient Pancakes I was talking about? 90% of the time I make them while I'm cooking dinner the night before. The mornings I work I make smoothies and I tend to leave the 'slightly' more involved recipes for the weekend. Do remember these are EASY, wholefoods breakfast recipes.
I've done one of your challenges before and LOVED it. Should I join again?
You should. This one is different to any others I have run.
Because when you get breakfast right, everything just flows.
Get ready to crave, real wholefoods. For your kids to eat all of their breakfast and for your energy levels to go through the roof.