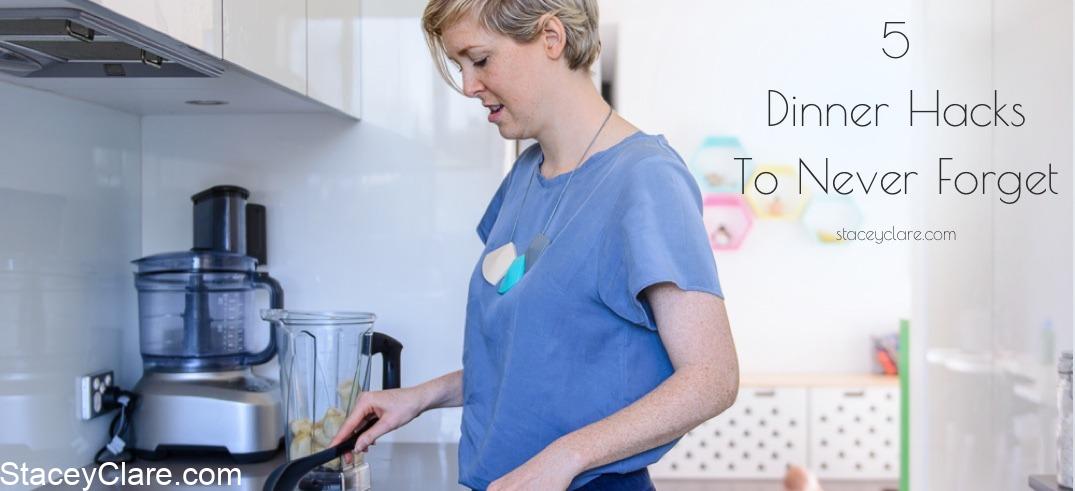 As a health and nutrition coach for mummas, there's a little question I get asked more than anything else… "But how do you actually do it? Like, get dinner on the table every night, that the kids will eat?"
Sure, we've got a tonne of recipes, often sitting in pretty cookbooks on our shelves, but it's making those recipes happen that is the clincher.
Here are the dinner hacks I use night after night to get dinner on the table:

1) Get a great food processor.
I know it's rare to see a mummy blogger without a Thermomix, but I'm one. I don't have one and I don't plan on getting one, but boy-oh-boy am I happy they're about. They're helping mummas cook from scratch with ease, and I think that's great. I have a trusty Breville food processor, and I adore it because I use it to grate veg (that I hide in 95% of our dinners). Get one: use the grater function, use the cutting function to make patties, use it to blend soup, use it to chop lots of veg. Total game changer.
2) Turn 1 meal in to 3 dinners.
I'm getting a name for doing this, and I'm proud as punch for it. It's the best meal-planning hack! Cook a big meatloaf and eat it with mash one night, crumbled up through zucchini noodles the next, and the last night bake it on a pizza. If this sounds crazy, it isn't. I can teach you just how to do it with actual recipes in my free 'Stress-free dinners' training series that starts on Monday. Come join.
Join my FREE 'Stress-free dinners' training series. I'll share some great recipes and hacks to help you. We start Monday.
3) Use your freezer, a lot.
Got a few sad looking onions? Chop them up (or better still, use your food processor) and freeze them in a bag to use another day. Stop throwing out sad looking veg – chop it up, store it and use it the next week.
4) Use your slow cooker.
I'm always adapting recipes to work in my slow cooker. I put the food on in the morning (when I have the most energy), walk away and come back to a cooked meal. High fives for efficiency! Sure, some meals don't take 8 hours, and that's cool. Use the keep-warm function and enjoy it when you're ready.
5) Get organised.
I know, annoying... But if you get motivated, get excited to try new things and find a way to stay on track, it will save you time, money and oodles of stress.
I'd love to teach you a bunch more hacks as well as giving you the recipes to make a great dinner you can turn into three meals. Come join my FREE 'Stress-free' dinners training series. We start on Monday so get in QUICK!
Stace x
Join my FREE 'Stress-free dinners' training series. I'll share some great recipes and hacks to help you. We start Monday.