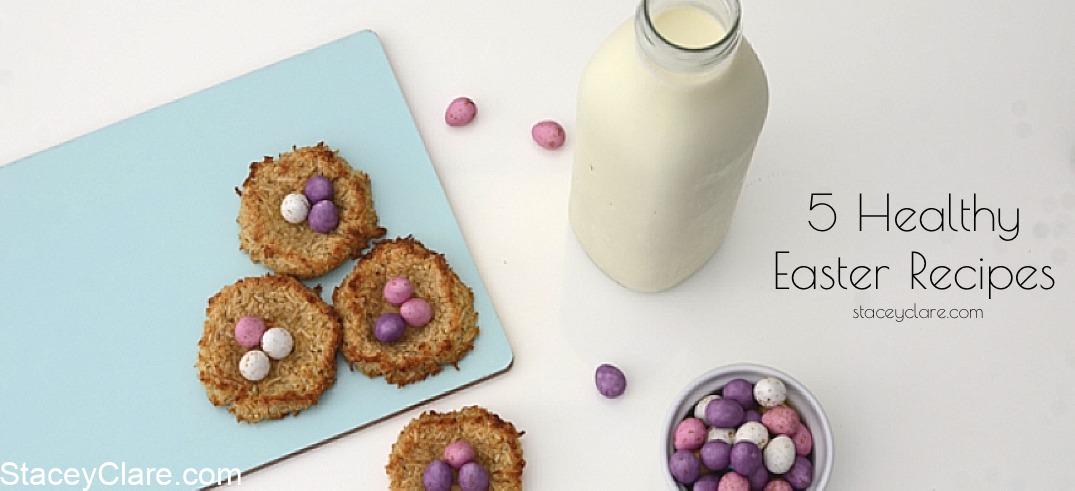 I love Easter and it's not just because it's perfectly acceptable to eat chocolate at 7am and enjoy long, lazy lunches. I love it mostly because I can be a big kid and make delicious (healthy) festive snacks.
Here are my top 5 healthy Easter recipes:
1) Healthy Coconut Macaroon Easter Birds' Nests - These quick-to-make (yep, start to finish in 20 minutes flat) macaroons are free of refined sugar, gluten and dairy.
2) Healthy Chocolate Crackle Easter Owls with Goji Berries - Who doesn't love chocolate crackles, especially when shaped like little owls with tiny chocolate beaks? So cute!
3) Pecan and Maple Shortbread Bunnies - These are hands down my FAVOURITE cookie recipe. I make them often and in different shapes and sizes. For the babe's 1st birthday I gifted them instead of lolly bags and today there are 20 of them stacked high on the kitchen bench. There were 30 last night but you know, quality control had to flex its muscle.
4) Healthy Coconut Yoghurt and Berry Easter Egg Bark - Who knew that freezing yoghurt could make it taste so good? SO GOOD!!!!
5) Lemon and Lime Bunny Tails - Who doesn't love a good bliss ball? I sure do and these are not only delicious, the kids can help to make them and if you're feeding (like me), they'll also help with the milk supply.
So tell me, which recipe are you going to get makin' in the kitchen? Is there a yummy one I've missed? Let me know in the comments so I can get making too!
Stace x