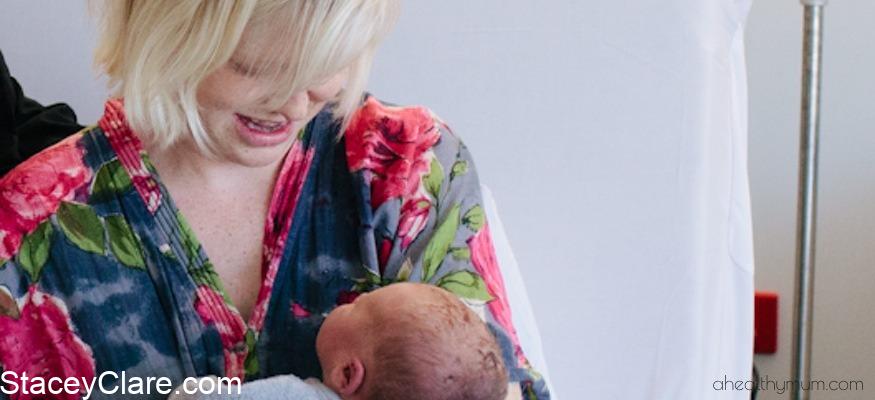 Things my end are fantastic.
Brilliant in fact.
Last Sunday I had a healthy...
BABY BOY!!!!
The labour was very, very long, the drugs helped and the gift of a healthy baby at the end made every part of it worthwhile.
We spent a few days in the hospital getting to know each other - it was bliss. For me, it was like being a first time mum all over again as I never had my first babe next to me (my first was born prematurely) I loved showing him off to friends that visited and having him sleep next to me in his little cot. Now we are home and things are going really well – he's feeding and sleeping as a newborn should and I'm even brave enough to trial a routine that seems to be getting me a decent block of sleep at night. 3 hours counts as a block of sleep, doesn't it?!
Now, for some more good news but this time it's for you.
I wrote a lot of recipes pre-babe so there's no need for you to worry – things from Stacey Clare HQ will stay just the same.
There are more awesome recipes on their way to you soon but in the meantime, I wanted to make sure you have made one of my favourites, it's a
healthy homemade muesli.
It's delicious and is a great one to make with the kids this school holidays. Make a batch or two so that you have it ready for busy mornings when school starts back.
Stace x
FREE E-BOOK
P.S Would you like a copy of my FREE E-BOOK 10-in-10 Breakfasts? It's full of 10 healthy breakfast recipes that are ready in under 10 minutes and best of all the whole family can enjoy the same meal. Sign-up to my newsletter to get a copy, click here.