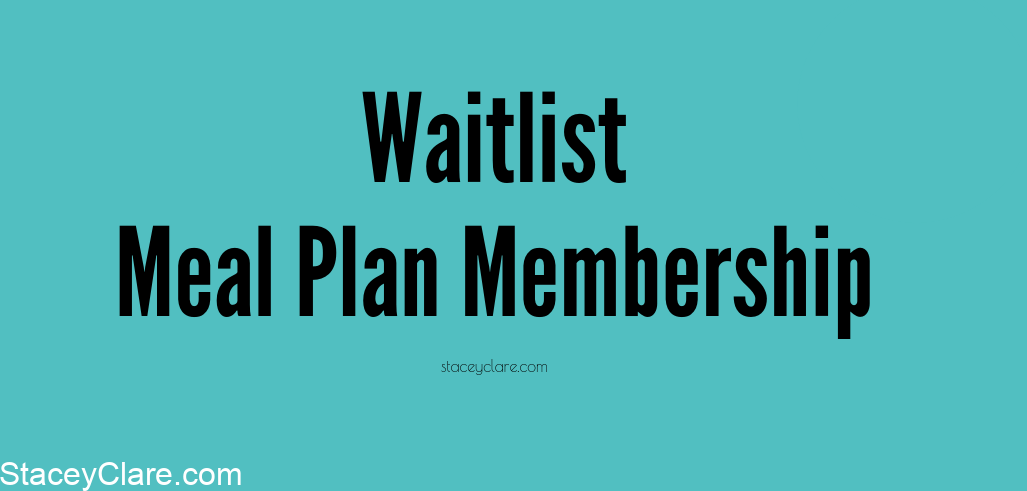 Click here to join the waitlist.
You're going to love THIS membership.
And you know, I can say that confidently because 150 mummas are already in the membership. They're loving the recipes and being motivated by the supportive community we have going.
You see I'm a working mumma of 3 so I 100% understand the load we carry as mummas around the evening meal. What's for dinner, do I have all the ingredients, are the kids going to eat it, blah blah. But I want to make things easier and have you outsource the planning of it for less cost than a brekkie out a month.
Each week I send you on a really varied meal plan that is full of regular, everyday family meals. There are baked dinners done the Stace way (i.e you're going to fall back in love with your slow cooker), a bunch of fish and vegetarian meals and cook recipe hacks to use up all your leftovers. Each recipe has allergy tweaks for gluten, dairy, fodmap and even vegetarians.
And each week will be interesting because we follow a different theme. Here's a taster:
Simple, one-pan meals
Veggie-packed meals
Eat through your freezer stash
Cook once, eat over 3 nights
Full vegetarian week
Kids lunchbox cook-ups
This membership is always interesting. There is always something you are going to want to try.
Now it wouldn't be a Stace thing if there wasn't bucket loads of me in it…
Each month I am going to one-on-one coach one of the beautiful mummas. Yep, I'll help you EXACTLY where you're at and how to help you move forward. Maybe it's helping you clean out the pantry and use up all the items in a few meals you never knew about? I can motivate you to get exercising again, help with tweaks to meals to fit with your hubbies intolerances and even help with fussiness. Whatever you need, I'll do it.
Plus
Once a month there will be a live Q & A with me, to ask me ANYTHING and everything.
Now I bet you want to know what the freebies are for joining in the first 24-hours.
FREEBIES FOR JOINING ON MONDAY 21ST OCTOBER
2 weeks free
PLUS
1 scoby to make your own homemade kombucha, delivered to your door.
That is over $50 in value, yours free for jumping in on Monday.
So get the time in your calendar, make a note and come Monday JUMP ON IN!
Stace