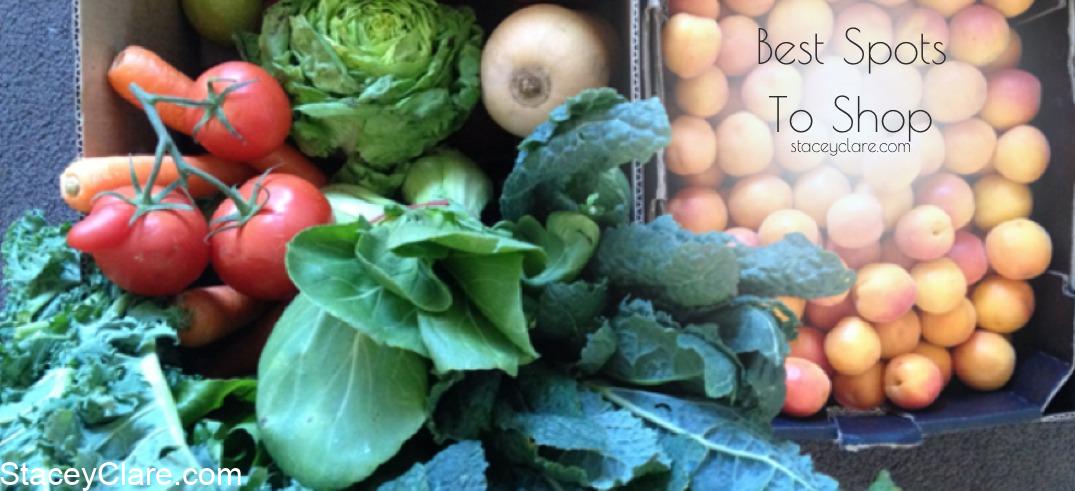 I'm always looking for cheap organic & health food shops that are online and local to me, here in Sydney. I hunt down the best bargain organic fruit & veg, I buy from wholefood shops rather than supermarkets and I'll stock up at free-range butchers when the cuts we love are on sale. It saves me money, it saves me time and my whole families health is so much better when I shop this way.
I want you to know exactly where to grab these bargains too. I've pulled together a complete list + saveable PDF of where to buy the best and cheapest organic and healthy wholefoods in Sydney + online Australia wide too, so here goes:
Cheap Organic Fruit & Vegetable Shops In Sydney & Online:
Eco Farms, Homebush – This is the parent company of Absolute Organics and they have a small shop-front in their Sydney warehouse on Paramatta Road. Their produce is brilliantly fresh, the range is great and the prices are brilliant. Every Tuesday and Wednesday they have 15% off all the produce. My produce lasts at least 2 weeks when I buy it from here.
What do I buy? 90% of my fruit and veg. They have a section for produce that is turning or over-supplied. It's always cheaper and I love the thrill of thinking what to cook with it.
Sneaky secret – They also have outlets in Brisbane and Melbourne.
Farmers markets, Sydney wide – This was where I started going when I started my healthy food journey. I live in the Inner West of Sydney so Eveleigh, Marrickville and Orange Grove are great. I do like the Bondi, Northern Beaches and Fox Studios markets too.
What do I buy? Anything the babes think looks great. I use the markets as a way for them to explore and feel empowered about food. Plus, croissants. Always delicious, buttery croissants.
Sneaky secret – Go when it's closing and get all the bargains they're selling off.
About Life, Sydney wide – Not overly cheap but the quality is fantastic and I adore that this chain of supermarkets is run by two sisters that are mummas too. Go the small guys! Their kale is a hit in our family – 2 HUGE bunches for $5 is pretty good value in my books.
What do I buy? Any veg I've run out of. Everything is great quality and very much worth the money.
Sneaky secret – There are stores all around Sydney and now in Melbourne.

Cheap Free-Range & Grass-Fed Butcher Shops In Sydney & Online:
Feather and Bone, Marrickville & online – A full nose-to-tail butcher (LOVE!) and although it's more expensive than Woolies, you can 100% taste the quality. They're all about ethics here and you can taste it.
What do I buy? I love their free-range ham and their chicken feet, for making yummy broth.
Sneaky secret – They deliver all over Sydney. And, order a Christmas ham – they're incredible.
Vic's Meat Market at the Sydney Fish Market, Pyrmont – A great ethical butcher that has really cheap prices.
What do I buy? Steak, sausages and I stroll across the carpark and grab all my fish.
Sneaky secret – Have a Wagyu burger whilst you're there. They're great!
Field to Fork, Vaucluse & online – These guys are expensive but you so often get what you pay for. They don't waste a thing here – they use the leftover fat to make lard (which they sell), their cured meats are free of nitrates and their meat will melt in your mouth.
What do I buy? The baby chorizo and cabanossi for the babes' lunchboxes – they're free of chemicals and made with free-range pork. So good.
Sneaky secret – They deliver, mostly for free. Buy the small chorizos by the kilo bag and freeze them.
About Life, Sydney wide – Like their veg, I like their range of meat. They have the Cleavers brand of preservative-free sausages which my babes love.
What do I buy? Sausages, meatballs and marinated meats.
Sneaky secret – Go early in the morning and get all the mark downs.
Cheap Wholefood Pantry Staples In Sydney & Online:
Honest to Goodness, Alexandria & online – What a game changer this has been for me! Set up a wholesale account. You don't need a business or an ABN. All you have to do is spend over $500 in any order and you can buy all their items at a wholesale price. Get some friends (I do my orders with 3 friends) or do a big order. I previously bought my coconut oil for $28 a bottle but wholesale through these guys it's now $16. Game changer, huh?
What do I buy? EVERYTHING. Rice crackers, flours, nuts, passata, coconut milk. Seriously, 90% of my pantry I can buy through them.
Sneaky secret – It's free delivery when you spend over $500.
The Source Bulk Foods, Australia wide & online – Take your own jars and fill them up. They have a GREAT range and lots of locations.
What do I buy? 90% of my pantry plus the dried white mulberries.
Sneaky secret – They do a different special each week. Buy that one in bulk.
Want to know:
The top 3 things to buy at each shop? The store hours? The exact locations? All in one easy place?
Done.
Download my one-page guide you can save to your phone with all these extra bits. IT'S FREE!