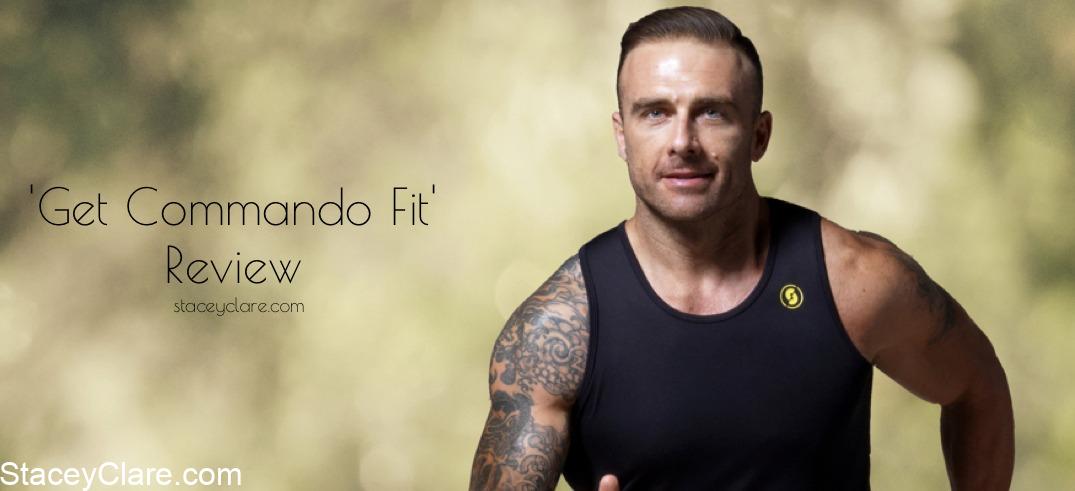 As a Health Coach I work with many people, mainly mums, that don't feel they can put their hand up and ask for help. They want to try and fix their diets themselves but have no idea where to start. They know they should be exercising more and think that come next week, everything will magically fall into place. Well, without support, often this doesn't happen.
Some people thrive with one-on-one help and others prefer a group fitness approach to set them up with good habits. Whatever the case, I just want to see people feeling the best they possibly can.
A few weeks ago, an email arrived in my inbox asking if I'd like to join the GetCommandoFit 13 week health and fitness program as a gift and then write about it. I was skeptical. I eat pretty well and exercise a little, how would I find time to do this program being a busy mum and do I think the program is right to even consider telling you about it? I'm really strict with what I'll tell you about.I have never done a program like this because I don't do gyms, nor do I do low-fat foods or food from packets. So before committing and even thinking about telling you about it, I did my research and asked a ton of questions. The outcome? I'm in. After having my second child, things aren't perfect and I always love to receive help with my health. I don't know everything – far from it. I also LOVE that there are going to be some new recipes and some new workout routines for me to try.
I thought you might like to know the questions I asked…
AHM: Tell me a little but about your program, Commando:
Commando: GetCommandoFit is an online 13 week health and fitness program. There's one week up front, which is for benchmarking and education. In this week I will teach you fundamental movements that you'll use throughout the program and I'll talk you through the nutritional side of things. Then you start 12 week's worth of training, with 3-6 workouts per week depending on what level of the training you're doing. You'll receive a meal plan with 5 recipes per day, for 7 days of the week, as well as a shopping list.
– Okay, so that's sounds okay, I like being spoon fed information every now and then.

AHM: Why do you find group programs work?
Commando: Because they bring people together. Coming from an army background, I'm a huge fan of people working together in groups – it creates a great support network, helps to motivate and it never hurts sometimes for a bit healthy competition! In our test groups, we found some mum groups were even pooling their resources with the cooking. Seriously, they'd make double batches of meals and snacks and swap them in the group.
- I get that. I'm going to look into joining a group and/or getting my husband in. Wouldn't hurt if he ended up looking a little bit like commando now, would it?
AHM: Why is your program a good option for busy mums?Commando: Because it's easy to follow and cuts down on the meal planning side of your week. There are 3 short workouts a week (which should be manageable) and they don't involve you going to the gym – you can take the kids to the park and do them!
- I like this idea as I am not a gym person. I like my kids with me when I exercise as I believe it sets a good example plus I really love hanging out with them, so more time together is a win-win for me.
AHM: How easy is the meal planning? Is it family adaptable?Commando: Sure is. The meal plan is easy to customise or you can go with our suggestion. The shopping list updates itself as you customise your plan so it's all there when you hit the shops. We developed recipes with larger serving sizes so you can feed the whole family, cook in bulk, freeze or just have it as leftovers.
- Now you're talking a busy mummas language – one meal for the whole family!
AHM: What's unique about your program compared to other group programs?
Commando: Our approach to training is different given my Army and CrossFit background. We favour a 'functional movement' style of training (think CrossFit), meaning you're getting a whole body workout without needing to visit a gym. Our approach to nutrition is also different. We don't calorie count and we don't believe in the need to be extreme in dieting. Food is supposed to be delicious and enjoyed. We focus on a wholefoods, clean eating approach, stripping out highly processed foods full of trans fats and sugars, similar to Paleo philosophies.
- This is the part that won me over. Personally, I wouldn't do the Michelle Bridges program as it advocates low-fat dairy, which is full of sugar and hard to digest. I wouldn't do Weight Watchers, etc. either as they count calories which again is just WRONG in my eyes! I like a wholefoods approach and although Commando follows Paleo principles, there are still carbs in the diet and heck if I find it doesn't have enough, I'll cook some quinoa or brown rice and eat that with the meal.
AHM: What's a typical day of exercise/food/support on your program?

Commando: It's 3 workouts a week that would usually be around 30 mins in length. They include a warm up for about 5-10 mins and then a variation on cardio and bodyweight movements. The food is always 3 meals and 2 snacks per day. A typical menu for a day is:
Breakfast: Bircher Muesli
Snack: Banana and Date Bliss Balls
Lunch: Roast Beef Wrap
Snack: Rice crackers with ham and tomato
Dinner: Miso Sesame Chicken Sticks
- Sounds okay but I will be changing breakfast. I find that if I eat protein for breakfast, i.e. eggs with grilled veg and sauerkraut, my body has energy to run after the babes for the day. That's the beauty of being healthy and knowing your body isn't it? You know what works and what doesn't.
The program is $199 and starts on 16 February, but you have 2 more days to sign-up. You can join here
Now, tell me, have you done a group program before? Did you like it? Any words of advice for a rookie? Please let me know in the 'comments' section below.
Stace x
From time to time I do take on sponsored posts for brands that I believe in and do use myself. Please know I will not share anything with you that I don't believe in or think you wouldn't enjoy too, that's just not who I am. If you'd like to know more about my policy or would like to work together, please get in touch here.