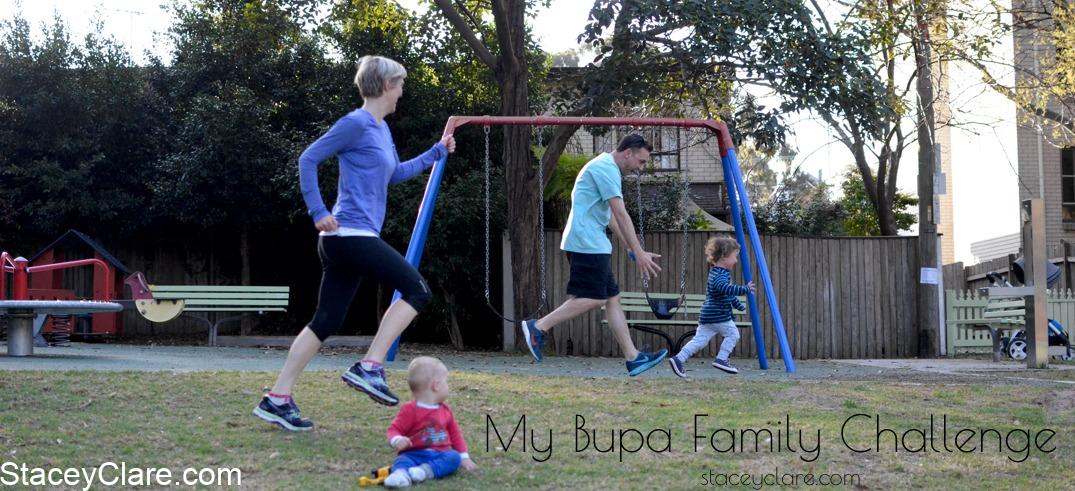 So I've started running again.
Truth is, hubby, the older babe and I have all started running. Various lengths of course but our little family is a-runnin' and gosh we're feeling great about it. 1.5km was my first run/shuffle/waddle but I ran the whole damn way. I was home in 15 minutes and that whole day I felt really, really awesome. That night I continued the momentum and signed the whole family up to the free Bupa Family Challenge and seriously, we've had the greatest time doing the one-week program.
I really like the Bupa Family Challenge not just because they have the awesome Life Education's Healthy Harold as their brand ambassador (oh I loved when the caravan came to our school, you too?) but because they've thought about they the key aspect that so many other challenges miss – we MUMMAS AND PAPPAS ARE BUSY. If we can't exercise with our babes and therefore complete a challenge TOGETHER the reality is that we won't see it through.
So that's my golden tip – exercise with the whole family.
Here's how we've done it in my young family:
We've built running into our days – I go in the morning with or without the babes and I am home in 20 minutes. Hubby schedules his run in for the night when I'm wrangling the babes into the bath. I lay his clothes out for him so he walks through the door, changes and goes. If you're really, really honest, a few kilometres only takes 15 – 20 minutes and your home. Most schedules can take that.
We run where the kids are happy to hang out - For us, this is at the park. Near me, we have some great fenced parks so we go for a play and I do sprints up and down the length of the park. On the weekends (or the occasional morning) hubby and I get up with the babes and we all go for a run in the park. Playing chase is a favourite for us all – it really is just as fun as it was as five year old. Almost.
I've used something to motivate me – For me it was this challenge and I do really like it because they don't stalk me with emails asking me if my laces are tied and whether I am running like the wind. I got 2 or 3 emails over the week and all were short, sweet and super motivating. Find a tool, friend, or beautiful location that will keep you on track and use it.
So there you have it, Stace is now back running thanks to the Bupa Family Challenge (you can check it out and sign-up here). Look out Summer Olympics, this clumsy, laughs too much, bakes a mean healthy cake and loves online shopping Stace is coming for ya! Or at least for the big hill near my house, the glory will feel pretty much the same!
Stace x
PS. Let me know in the 'comments' a tip (or two or three) that have helped motivate you to start exercising again. I'd love for you to share it because you just don't know who you may motivate – it could even be you!
This is a sponsored post. From time to time I do take on sponsored posts for brands that I believe in and do use myself. Please know I will not share anything with you that I don't believe in or think you wouldn't enjoy too, that's just not who I am. If you'd like to know more about my policy or would like to work together, please get in touch here.