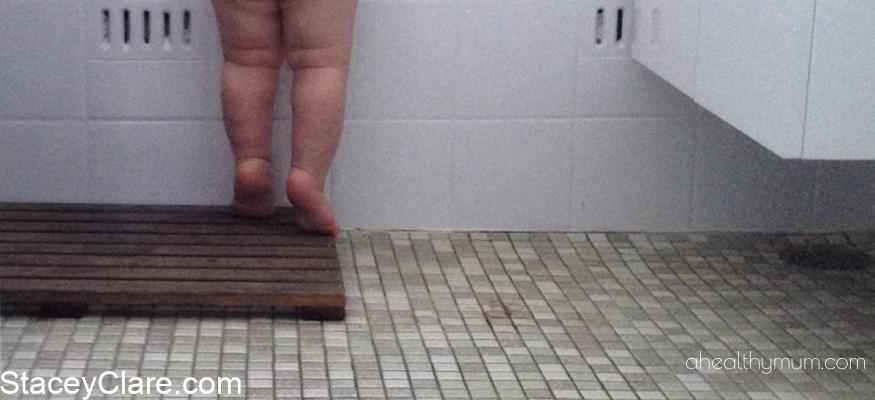 Have you ever seen a grown man's hands so swollen and sore from eczema that he can't even hold his wife's hand, he can't bath his own baby or type freely on his computer?
I have.
This grown man is my husband and boy is it heartbreaking to watch.
It was a fear that it would be hereditary and so during both pregnancies I have been very polite and honest with my friends, asking them not to buy me any beauty products because I didn't know how the babies' skin was going to be and the last thing I wanted is for my husband not to be able to enjoy a relaxing newborn bath or applying some nappy rash cream without him having to call for me to help.
Why change?
There are now currently over 10, 500 chemicals alone found in skin, hair, beauty and personal care products and only 13% of these chemicals have ever been tested for safety in cosmetics over the last 30 years. The cosmetics industry is unregulated and because of the allowance of so-called "cluster ingredients" like "fragrance" (that alone can contain up to 4000 chemicals and be listed as one ingredient on a label), no one other than the manufacturer really knows what chemicals are actually in the products they are using.
That fact scares me but this scares me most:
Because our skin doesn't have the digestive enzymes available to it that our digestive system does, our skin is said to absorb chemicals up to 10 times quicker than by way of ingestion. 65 – 70% of everything we put on our skin goes into our bloodstream and organs, unfiltered. Considering that the average woman uses at least 12 beauty products everyday, that adds up to an astronomical 175 potentially harmful chemicals every single day! *
The good news is that there is always ways around this. I want to share with you some products I personally use.
1) Toothpaste – We use Pure & Green's chemical-free, organic mint and coconut flavoured toothpaste. Why? Chemicals in the mouth are absorbed straight into the bloodstream. This toothpaste works out about 70% cheaper than using the Colgate whitening variety we used and best of all, it has no chemicals and I really do feel better for it.
2) Moisturiser – We use coconut oil on our bodies, face, nappy rash and hair. Why? Coconut oil is cheap, moisturising and easy to find. The brand I love is Niugini Organics.
3) Deodorant – We use a natural deodorant that works great from Planet Botanic. The Axilla Brand is made in Australia and works well for my husband and myself. Again, it's a lot cheaper than buying a brand like Rexona.
4) Hair Wash – We use a natural hair wash from Alchemy which I buy from my local health food store. I love the volume-boosting one and the colour-treated hair version. All are certified organic.
5) Body Wash – We use a natural body wash, again from the Alchemy brand. We use this because my hubby can't have any perfumes on his body, one-in-all-in!. Every so often I'll buy a nice smelling one for me to use. I love this lavender one from Planet Botanics.
Now, the good folk at Planet Botanic want to help you on your own journey to cut the chemicals you put on your skin. They are offering a $75 voucher for both you and a friend to enjoy any product from their amazing online shop. It could be one of the products I use or something else from their extensive skin care or even baby range. The choice is yours. To enter, pop to my Facebook page and simply like the post and tag a friend that would love to rid the use of chemicals on their skin too.
Stace x
* Statistics from: http://theresekerr.com/divine/
FREE E-BOOK
P.S Would you like a copy of my FREE E-BOOK 10-in-10 Breakfasts? It's full of 10 healthy breakfast recipes that are ready in under 10 minutes and best of all the whole family can enjoy the same meal. Sign-up to my newsletter to get a copy, click here.