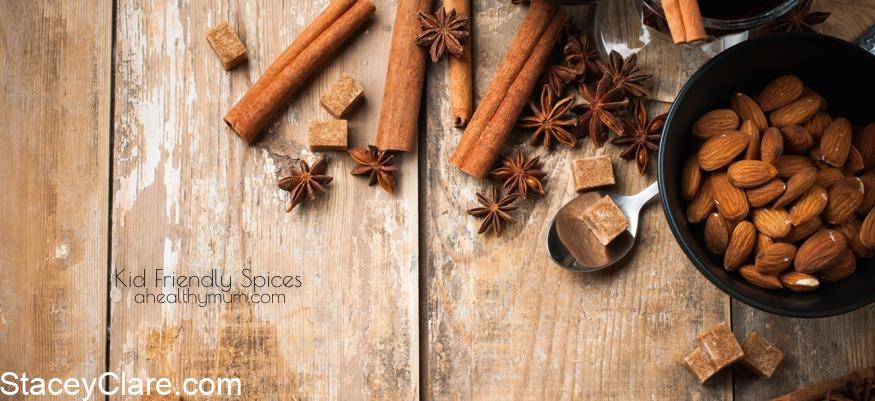 Introducing foods to your kids is an interesting time – countless purees and dishes are often tried with some being hoovered down, others being left/spat out/pushed into the carpet or my personal favourite... thrown across the room. It's often a similar story for a fussy eater as well, a time every mother dreads. One ingredient I've found that helped me in my journey to find food my babe would eat is spice. I'm not talking the hot or strong pungent variety, I'm talking the soft, naturally sweet flavours that bring life to a dish, that engage their sense of smell, as well as taste, and do all kinds of wonders for their health.
I've had Anna at The Taste Collective help me with this post. She's the spice guru and is passionate about people of all ages enjoying the wonderful world of spice.
The sweet variety of spices are a great place to start when exploring kid friendly spices – they're easy to find, low-allergenic and often easier on the digestive system to process. You can use them with confidence when starting your little one's spice journey. Here are a few examples of sweet spices I use:
Cinnamon
You can buy cinnamon both whole and ground. Use the whole quills for stews and infusions. The ground variety is perfect in your morning porridge or added to mince for dinner.
Vanilla
Vanilla comes in many forms these days – whole pods, ground into powder, as a paste and the more common, as extract. When you can, stay away from the extract as it often contains preservatives – something you don't want in your babe's body if you can help it. Vanilla is lovely added to plain yoghurt and stewed fruit.
Ginger
Dried, ground ginger tastes very different to the fresh root variety – it's more mellow and woody, making if perfect for new taste buds. It's often added to baking dishes like teething cookies and is great in Indian and Middle Eastern inspired dishes like dahl or rice pilaf.
Cardamom
Like cinnamon, you can buy cardamom whole or ground. The whole kind is great when slow roasting meats like lamb shanks or beef cheeks. The ground version is perfect for baking or adding a little flavour to roasted vegetables or legumes.
Nutmeg
Nutmeg is pumpkin's best friend and us mummas sure make a lot of that in the early weaning days. It's a great spice to accentuate flavour in a rich meat dish or to flavour the perfect cake. Now to bring this to life with some recipes to get you experimenting with these sweet spices:
Healthy Cinnamon and Fig Gluten-Free Muesli – mix it up by adding dried ginger or replacing cinnamon with cardamom.
Healthy Lamb Shank Pie – swap the rosemary for some cinnamon, ginger and cardamom.
Roasted or mashed pumpkin – with a dash of nutmeg, cinnamon or cardamom sprinkled on top.
Stewed rhubarb or mashed banana – with cinnamon, cardamom or dried ginger stirred through.
Porridge with chia and raisins – with vanilla, cardamom, cinnamon or nutmeg sprinkled on top.
Of course there's a world of spice beyond these staples. You'll find many kids like bitter spices like cumin or coriander and blends like garam masala too.
The Taste Collective runs The Spice Discovery – a bi-monthly spice subscription that delivers you two hero spices, along with a collection of recipes to help you and the family enjoy them in new ways.
Stace x