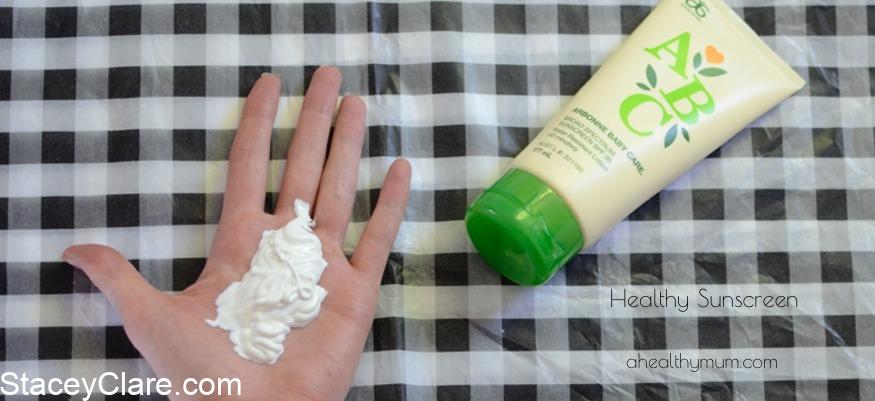 If you've taken a look at any photos of me on my blog you'll have noticed that I'm covered in freckles. Yep, my legs, arms and face are filled with them. They don't really worry me, although having to apply sunscreen everyday does get a tad laborious.
I think having skin like mine heightens my consciousness of the need to protect my babes' skin from the sun and, just as importantly, that the sunscreen I apply doesn't harm their health.
Since I began my search for the ultimate sunscreen, I have learnt soooo much. Some of the things I've discovered are a little bit frightenting so I wanted to share what I've found. Here goes:
The most common sunscreens on the market contain chemical filters. They typically include a combination of two to six of the following active ingredients:
oxybenzone
avobenzone
octisalate
octocrylene
homosalate
octinoxate.
Chemicals used in sunscreen can penetrate the skin or be inhaled if using a spray sunscreen. Ouch! These chemicals have been known to disrupt hormones, have a toxic effect on the reproductive system and can even interfere with normal fetal development. Oxybenzone has also been shown to cause allergic skin reactions.
When choosing the best sunscreen for you and your family, I recommend looking for the following (it's what I did):
Titanium dioxide and zinc oxide based mineral sunscreens – these don't penetrate the skin but they do provide UVA protection against the sun's most damaging rays.
Non-nano products – these come without the small particles that can absorb into skin.
Broad-spectrum UVA and UVB protection – this will be advertised on the packaging. It is protection from the two forms of ultraviolet rays.
SPF between 15 and 30. - You could go for a higher SPF but most experts believe that these high SPF sunscreens don't provide that much extra protection. What is more important is that you reapply often and thoroughly.
Water resistance – Even if you aren't swimming, when you're outside you're likely to be sweating, so a water-resistant sunscreen will provide better protection than non water-resistant sunscreen.
Hypoallergenic and fragrance free sunsreens - especially if you pr the person applying it have sensitive skin.
Zero nasties - inclusion of any of the nasties I mentioned above.
When doing my research, I contacted a few companies to get the nitty gritty on each of their sunscreens. I was lucky enough to have been gifted some Arbonne ABC Sunscreen from Cassandra Trezise Arbonne Independent consultant . It's good. It's a broad-spectrum SPF 30, chemical-free, mineral sunscreen that works a treat. It's a little thicker than most but that's the reality of a natural alternative, so it's not really an issue for me. If you'd like to try it, please contact Cassandra here on her email, to get a great deal.
Is there a brand of sunscreen that you use that is great? Please share it in the comments so we can all give it a try.
Stace x
PS. If you'd like to read some more on the nasties in sunscreen, take a read of this great post by the incredibly knowledgeable mumma, Alexx Stuart. http://alexxstuart.com/theres-what-in-my-sunscreen