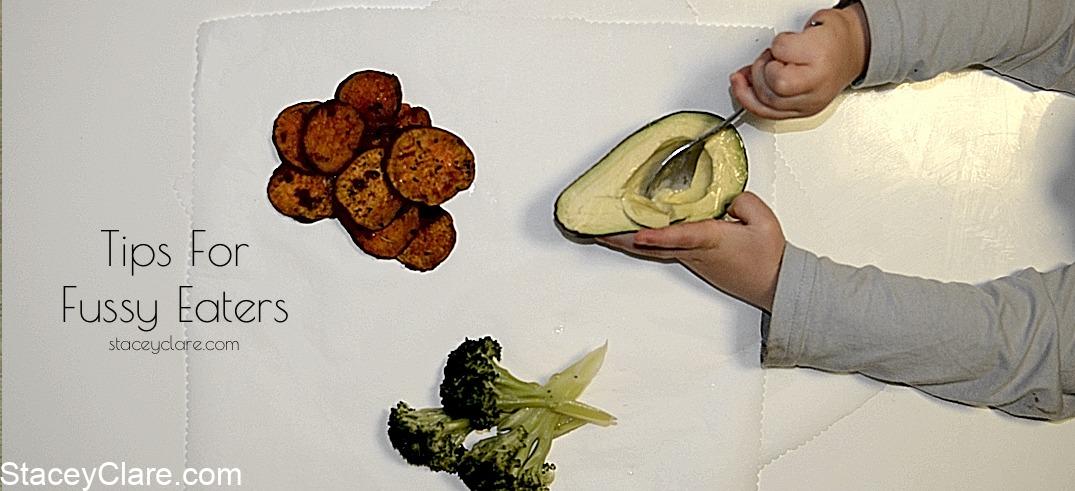 Fussy eaters. Have you got one or more in your home? Fussy eaters that just won't try new things? Me too!
Lately though things have changed, I've been having some real luck at getting vegetables in and I thought you might like to know my tips for fussy eaters so you can try them out on your babes too.
1) Cutting vegetables into different shapes – My eldest babe just won't eat sweet potato (along with green beans, raw carrots, tomatoes... you get the drift) but one night I cut it differently. I cut the sweet potato into rings/circles (um, so easy!) and when I was serving them up he shrieked, "Yum Mumma, pancakes". Perfect. As you can imagine, we now regularly have sweet potato pancakes. (Regularly really means we now only eat our sweet potato's cut this way.) This technique also works great with potato, carrots and other root vegetables. I just call them big or small pancakes.
2) Mesh together their favourite activity and food – I often share on my Facebook and Instagram pages my little 2 year old's love of diggers. It warms my heart to no end – I just love that he loves them. One day he was watching me scoop the avocado out of the skin and said, "Mumma digging. Mumma's a digger" and immediately I thought, great and asked him, "Do you want to be a digger too?" Yep, he loved it and still does. He now regularly eats half an avocado just like this for a snack and for an added bonus it even saves me from scooping it out – winner! This idea could work with a whole host of different things kids love and bringing that across to food. On the couch one night, chat with hubby and brainstorm together.
3) Show them their favourite animal and what they eat – We have a cute little possum that lives in a tree outside our home. The babe has nicknamed him "pom-poss" because he can't say possum. CA-HUTE! We often watch him just before bed eating the leaves off the tree. One night my genius of a husband shared the connection of broccoli being like 'little trees' and maybe the babe could be like his beloved pom-poss. Ta-da. It worked. He's eating his broccoli and telling us all he's a pom-poss. Now we're slowly moving onto cauliflower with this same thought, telling him that it's trees with snow on top. It's worked a few times and a few times not but hey, it's a start, right?
I really hope these ideas help you. It's so frustrating/tiring/saddening when you put in so much effort and the babes just won't eat the food you know is good for them. I do hope these ideas help you and renew any energy that may have disappeared over meal times. Rest assured that everyone has or will be in this exact same spot.
Stace x
PS. I'D LOVE FOR YOU TO LEAVE ME A 'COMMENT' ABOUT ANY FUSSY EATER TRICKS YOU'VE TRIED THAT HAVE WORKED. THERE ARE THOUSANDS OF MUMMAS THAT READ THIS BLOG EVERYDAY AND I'M SURE THEY'D BE SO GRATEFUL TO HEAR WHAT'S WORKED FOR OTHERS.
PSS. If you want even more tips, have a read of this article I wrote some time ago too.