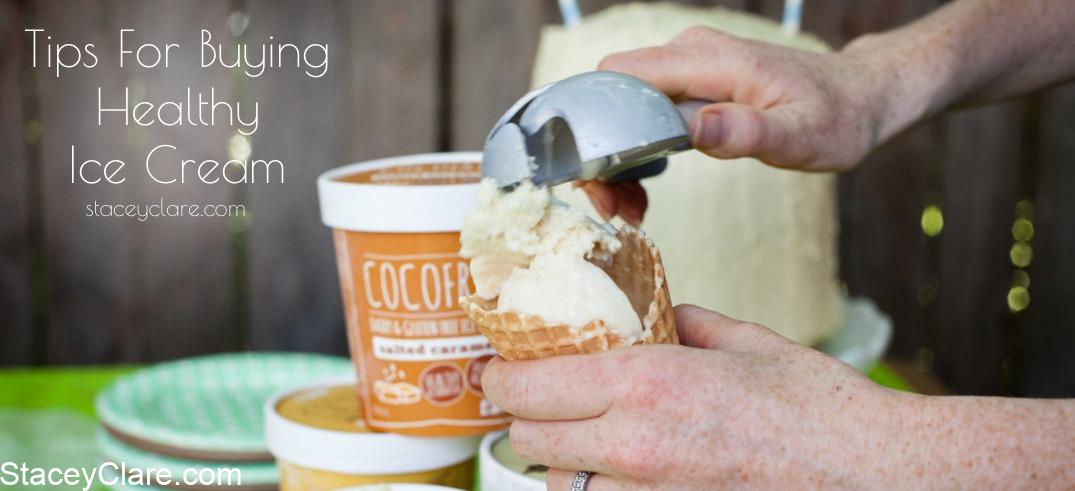 In Sydney the weather is turning. The days are getting warmer, the nights a little brighter and the natural flow on effect is that we enjoy a bowl of healthy store bought ice cream with the babe once he's eaten all his dinner.
Yep, you read right. My babe eats ice cream. I do, on occasions (yep, I'm REAL), use it as barter to get all his vegetables in BUT when I do, he eats the best damn ice cream I can buy or if I have time, I'll make it myself from frozen bananas.
Here's my tips to buying a healthy store bought ice cream:
No powders – Often, ice cream companies will use a milk powder in addition to whole milk to save money. To make it even worse, they'll often use a skim milk powder and what you may not realise is that means the milk has been doubly processed. I look for whole, real milk. Simple.
Full fat – I'll never endorse low fat dairy. Many of the vitamins are boiled out of the milk to make the skim variety, problem is we need them to be able to digest the milk in the first place. Oh and on occasions sugar is added to make the low fat stuff taste better and nearly always, fillers are chucked in so the texture resembles full fat milk. Yuck huh? Enjoy the full fat stuff – everything is left intact (mostly) and your body can digest it a whole lot better.
Preservative free – Many ice creams contain 'numbers' to achieve their colour and flavour. A better option is to buy a good quality vanilla ice cream and flavour it yourself. You could look for a whole fruit sorbet option too.
Low sugar – Not only do we want as little sugar in the ice cream as possible, ideally we want it to be a sugar our body can digest without too much trouble. A low fructose alternative like rice malt syrup, coconut sugar or even brown sugar is my pick.
Dairy milk alternatives – I like my babes to have a varied diet and rather than giving them a bottle of coconut milk (although on occasions when mumma hasn't made it to the shops, that's what happens), I look for a coconut milk ice cream. I know it will go down because lets face it - it's ice cream. And, hubby and I don't do great with a lot of dairy so I like to buy one thing that we can all enjoy.
Let me put those points together for you with an example. Here's a common ice cream brand that is served in a blue container with a pretty 'ribbon' on it. Here's their ingredients list:
Dairy ingredients (reconstituted buttermilk and/or reconstituted skim milk, milk solids, cream), glucose syrup (from wheat, contains preservative 223), cane sugar, gelatine, emulsifier (471), vegetable gums (401, 407, 410), flavours, colours (160b).
Contains milk, wheat and sulphites.
Nuts right?
Reconstructed buttermilk, skim milk and other milks. Heck, can you imagine the processing that's gone in to making that. A glucose syrup (that's just highly refined white sugar boiled even further in to a syrup) and they did that with the help of wheat and preservatives. Yikes! Then more sugar, gelatine to help bind it and add texture back in because they haven't used any natural stuff and well you can read the rest, it's just numbers. Numbers I know very little about but make me worried. Worried enough to not put it in to my babes that are really effected by processed foods.
So which one do I buy?
I buy Cocofrio. I have for over two years now. It's made from coconut milk, sweetened with brown rice malt syrup and all varieties are free from numbers, preservatives and other weird ingredients I just can't pronounce. I buy it from my local health food store or Harris Farm but you can find your closest retailer here.
Tell me, which ice cream do you buy? Which flavour do your kids like the best?
Stace x
This post is sponsored by Cocofrio. From time to time I will accept an offer to promote a product that I feel will be of benefit to you. I will only ever promote products that I purchase already. Yep, I have been a loyal fan of Cocofrio for a few years now so I jumped at the chance when they asked me to share their products with you because I currently have two tubs in the freezer and served it at my littlest babes birthday party. If you're interested in getting in touch about sponsored posts, I'd love to chat. Please reach out here.