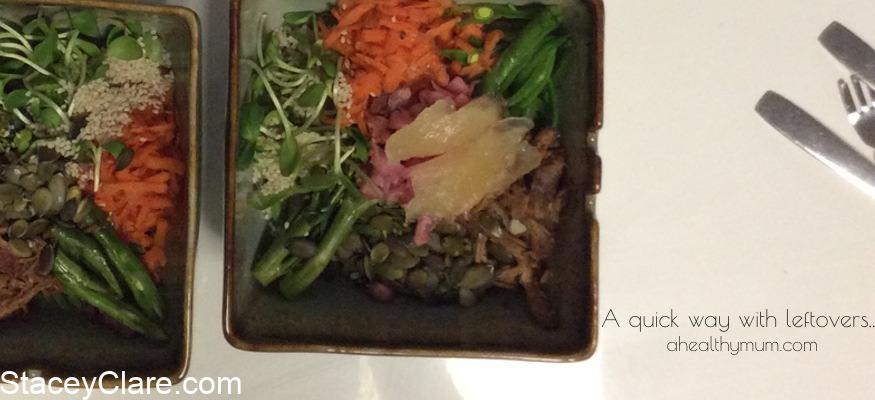 We've all been there, looking at a half eaten roast and trying to figure out how we can make it in to another meal and save it from the green waste bin...
Here's a great use for using up leftover roast pork it and the best bit, you'll be eating in under 15 minutes. The fancy name for this dish is a "nourishing bowl" well that's what all the wholefood cafes are calling them.
I call it..."I'm tired and don't know how to use up this last bit of meat dish." 1) Cook enough brown rice for the family, the good news is this step is the longest part of the cooking process.
2) Shred your roast / leftover steak / stir fry / chicken thighs / roasted vegetables. I used some leftover pulled pork from this IQS recipe: - http://www.sarahwilson.com/2013/06/sugar-free-barbeque-pulled-pork/ and re-heated it in a bowl in a steamer, above the cooking rice.
3) Decide on which salads / veg you'd like to top your bowl with. I put some broccolini and corn in the same pan as the rice and the rest of the ingredients I either chopped or grated.
4) I added a good sprinkling of sesame seeds, (full of calcium) sunflower seeds, (omega 3s) and olive oil to my bowl, along with a huge helping of sauerkraut and pickled ginger. I'm heavily pregnant so I'm very conscious of keeping my digestive track healthy and getting as much omega-3s in to me for my babes brain development as possible.
5) I adapted this meal for my babe by just mixing all his bits together and then he couldn't see all the hidden veg. He loved it!
Eat with your eyes and keep things simple,
Stace x