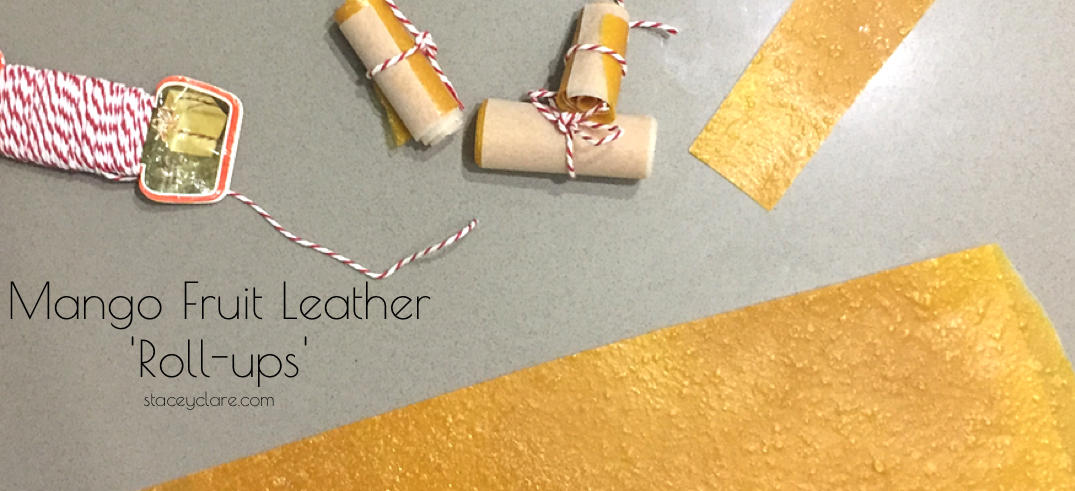 Fruit Leather 'Roll-Ups' Recipe
SERVES 15 | PREP 5 Mins | COOK 6 Hours
This could be your new favourite way to use up in-season fruit. Incredibly moreish, these real-food beauties will swiftly become a lunchbox favourite. I even make vegetable versions and pop them in the oven. Delicious! If you'd like the instructions on how to do that, pop over and buy my eBook, A Healthy Lunchbox There's a delicious rhubarb version in there.
Ingredients
2 large mangoes
3 tbsp mint leaves (optional)
Method
Step 1
Roughly chop the mango flesh, pop it in a food processor and blend until a thick puree is formed.
Step 2
Pour the mixture onto a lined dehydrator sheet and spread it out evenly with a spatula. I aim for 5mm thickness but don't worry too much about this - it's more important to get it perfectly level so that it dries evenly.
Step 3
Dehydrate for 6-7 hours on 45°C or until the mixture is dry, taking care not to let it over-dry. If you're making this in the oven, follow the same process only on a lined oven tray and bake for 5-7 hours on 60°C or until the mixture is dry.
Serving Suggestion
When ready to store, place a sheet of greaseproof paper over the top and cut the leather into 5cm x 5cm pieces and roll them up, ensuring the paper is on the outside. Place the rolled-up leathers in a container and store in the fridge for up to a month.
Stacey Clare's Nutritional Tip
Mangoes are great fruit to help boost your immune system. They're packed with Vitamin C and Vitamin A and a stack of antioxidants that keep your immune system healthy and strong.