Print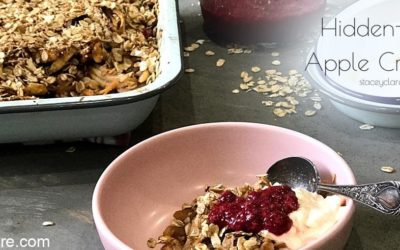 Healthy Apple Crumble With Hidden Veg
---
Author:

Total Time:

1 hour 15 minutes
Description
A few weeks back I went to a 'degustation' meal held by Weight Watchers. Stay with me here...I was sceptical because I am really against demonising foods, counting calories and eating 'low fat' foods, everything I thought them to be about. But I was surprised with this 'No Count Option' approach which can be good for overall health and losing weight because it doesn't involve counting, measuring or weighing foods. It's just about eating real food. Here's the thing, I put food on the table by being a one-on-one Health Coach for mummas, for me that personal way of learning is best, but I would be silly to think that my coaching is the only way every mumma can improve their health and lose a few kilos, it's just not. Some people really benefit from group programs, and I say props to Weight Watchers for creating that and having a real, yummy and nutritious foods list that doesn't restrict you to 'how many' mouthfuls you can consume and uses real food to fuel the body. So I thought I'd whip up a yummy, wholesome family dessert using foods on their healthy food list; a delicious apple crumble with hidden veg.
Note: This is a sponsored post for Weight Watchers 'No Count' option, you can check out more details on the plan here.
---
- Crumble

6

-

8

large apples

1

large carrot

1

tspn vanilla bean powder, paste or extract

1 tbsp

cinnamon

½

tspn ground nutmeg

½

tspn ground cloves

1 ½ cups

of water
- Crumble topping

1 ½ cups

whole oats

½

tspn cinnamon

2

tspn flax oil
- Raspberry sauce

1 cup

frozen raspberries

1

tspn vanilla bean powder, paste or extract
- To serve
Greek yoghurt
---
Instructions
Preheat your oven to 190 and gather a brownie baking dish, about 25cm x 17xm. Now peel your apples and thinly slice them. Then, peel the carrot and grate that too.
Pop the apples and carrots straight in your baking dish and add all the spices, tossing with your hands to ensure it's well combined. Then make up the crumble topping ingredients.
Now pour the water into your dish, this will help cook the apples without the need for butter. Then spoon the oats over the top and pop it in the oven for 1 hour or until cooked and the oats are nicely browned. Meanwhile heat your raspberries with the vanilla in a saucepan until soft, mash with a fork.
Serve the raspberry sauce with the warm crumble and a spoonful of Greek yoghurt.
Notes
The carrot will dissolve away while it's cooking with apples and if you've got a real fusspot on your hands, you could always add the raspberries through the crumble, so it colours the crumble, and the kids don't notice the orange of the carrots. Here's to getting extra veg into a delicious, sweet dessert dish, winning!
Prep Time:

15

Cook Time:

60
Nutrition
Serving Size:

12

Calories:

0

Sugar:

0

Sodium:

0

Fat:

0

Saturated Fat:

0

Unsaturated Fat:

0

Trans Fat:

0

Carbohydrates:

0

Protein:

0

Cholesterol:

0