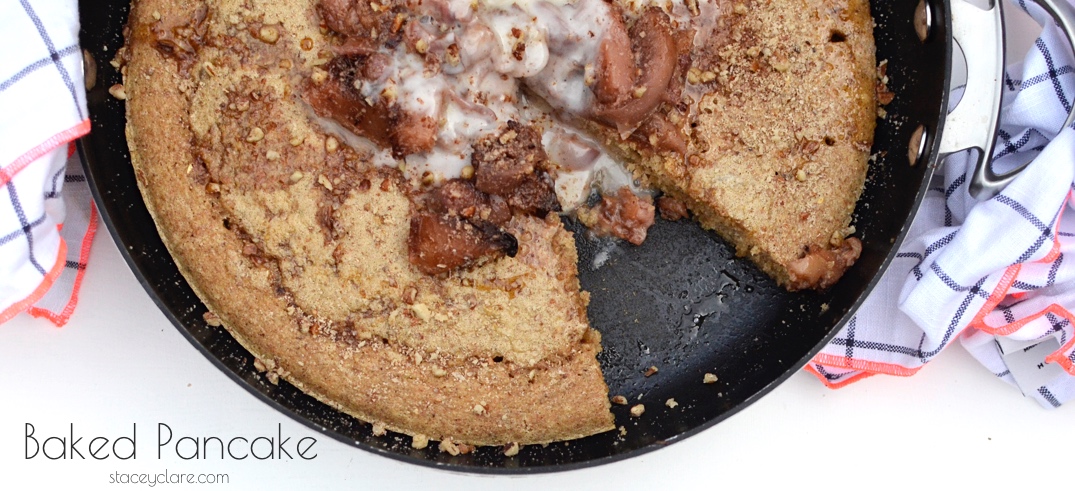 Healthy Baked Pancake Recipe
SERVES 8 | PREP 15 Mins | COOK 20 Mins
If you're looking for a brekkie you can make in bulk and re-heat during the week, this pancake is your ticket! It's from my 'Stace's Quick & Healthy Breakfasts' recipe eBook. It has a whole section of 'Make in bulk recipes' just like this one.
Ingredients
2 cups flour (I use ½ wholemeal spelt and ½ white spelt)
2 ½ tsp baking powder
3 eggs
2 cups milk of your choice
2 tbsp vanilla bean powder
⅓ cup sweetener of your choice (optional)
20g butter, cubed
'TO SERVE
1 cup baked fruit
1 cup yoghurt
Crushed nuts
Maple syrup
Method
Step 1
Preheat your oven to 180°C and grease a large ovenproof frypan (or rectangle dish) with butter. Mine was 30cm but you could cook it in two smaller ones. Sift the flour with the baking powder and set aside.
Step 2
In a glass jug, whisk the milk and eggs with the vanilla and sweetener. Stir through the flour mixture until just combined. Pour into your pan.
Step 3
Sprinkle the cubed butter over the top of the pancake and cook for 20-35 minutes or until the centre is just firm to the touch. If you're cooking this over two frypans, start checking them from 20 minutes onwards.
Serving Suggestion
I serve mine with roasted peaches but use whatever fruit is in season. I cut the fruit up nice and thin, part cover with water and pop it in a hot oven while you make the pancake. Once the pancake is done, the fruit will be too.
Stacey Clare's Nutritional Tip
Leftovers are GREAT in the babes lunchboxes, cold.
Egg free: Use 3 chia eggs
Dairy free: Use a dairy-free milk and pop 3 tbsp of coconut oil in the batter
Nut free: Leave them off. It's yummy without them
Gluten free: Use a gluten-free mix or try half buckwheat and half nut meal.