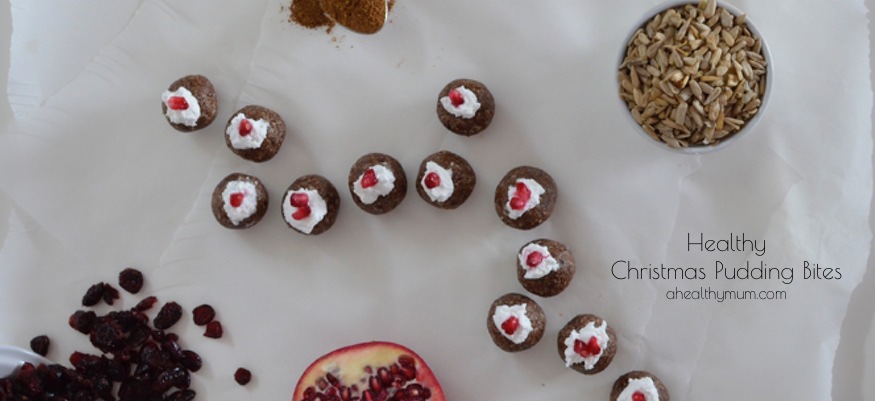 Healthy Christmas Pudding Bites
SERVES 16 | PREP 2 Mins | COOK 10 Mins
A healthy take on traditional Christmas puddings that not only taste great but are super fun for kids of all ages to make. Perfect for gifts or even packing in the lunchbox for school as these little beauties are nut-free too!
Ingredients
1 cup sunflower seeds
¾ cup sulphur-free raisins
¼ cup sulphur-free cranberries
1 tsp mixed all spice
½ tsp orange zest
100g coconut yoghurt
1 small pomegranate, deseeded
Method
Step 1
In a food processor, combine all ingredients, excluding the yoghurt and pomegranate. Pulse until it comes together into a chunky crumb.
Step 2
Roll equal-sized balls of the mixture with wet hands. Place on a tray and pop them in the fridge for 15 minutes or until firm.
Step 3
To decorate the puddings, place a small spoonful of coconut yoghurt on top and dress with pomegranate seeds.
Serving Suggestion
Store in an airtight container in the fridge for up to a week.
Stacey Clare's Nutritional Tip
Try to shop for dried fruit without a sulphur preservative (it's often listed in the ingredients as 220). This preservative has been linked to asthma, irritability, mood swings and many behavioural issues in children. I find I can track this type of dried fruit down at a good health food store.