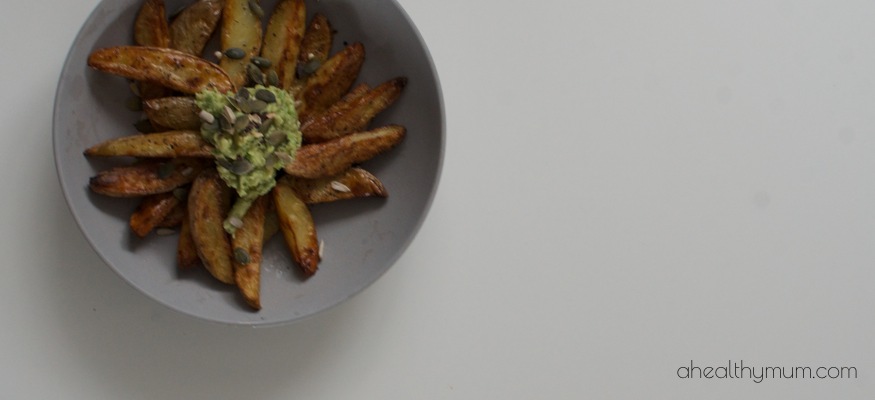 Healthy Homemade Wedges and Dip
SERVES 2 | PREP 5 Mins | COOK 25 Mins
Kids come home hungry from school and this snack is a great alternative to sugary baked goods. Play around with the ingredients you use to make the wedges. Here I've used potatoes but these are lovely made with sweet potato and carrots too.
Ingredients
5 potatoes, skin washed
2 tbsp coconut oil
1 tbsp dried Italian herbs
1 large avocado
¼ cup seeds, for serving
Method
Step 1
Preheat oven to 220°C and line a flat baking tray with baking paper.
Step 2
Cut cleaned potatoes into wedges and place on tray with half the coconut oil and a dusting of dried herbs. Bake for 25 minutes or until skins are crispy.
Step 3
In a bowl, combine avocado with remaining coconut oil and mash together until they form a chunky dip.
Serving Suggestion
Plate wedges with the dip dolloped on top. Sprinkle with seeds.
Stacey Clare's Nutritional Tip
Coconut oil has a high smoking point, meaning it can be used when cooking at high heats, i.e. 220°C. It also has fantastic digestive and anti-inflammatory properties, making it ideal to include in the whole family's diet.
Subscribe to the Stacey Clare - A Healthy Mum Newsletter
GET A FREE SNEAK PEEK OF MY 'A HEALTHY LUNCHBOX' EBOOK HERE. Sign-up to my newsletter to get your copy, it includes 10 recipes from my best-selling eBook.