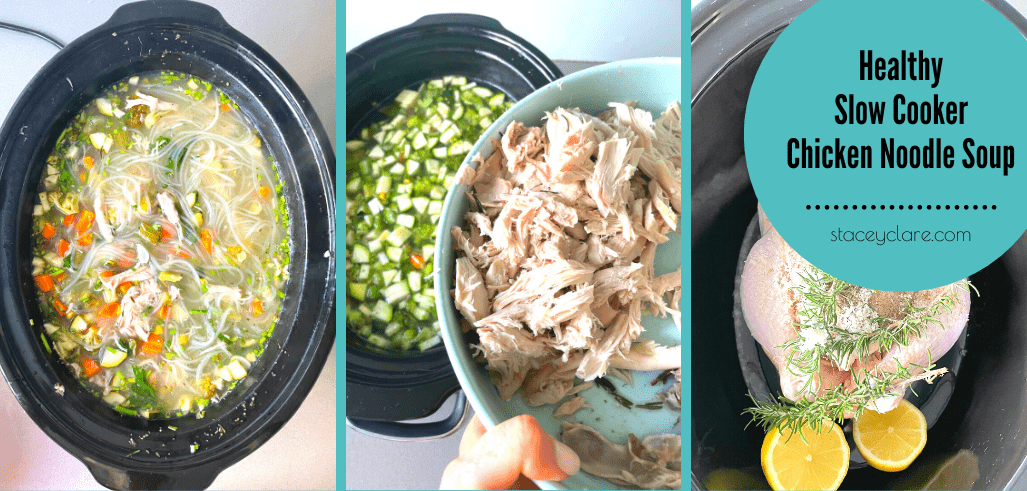 If you love a healthy chicken noodle soup, you'll love my hack for making it in your slow cooker.
It's such a great way to do it, because it doesn't over-cook, you don't have to keep an eye on it, and the taste is great.
Pop your chicken in the slow cooker with the herbs and an organic lemon. If you aren't certain your lemon is organic, leave it out and add the juice at the end. This is because non-organic lemons have plastic on their coating and can make your soup taste bitter.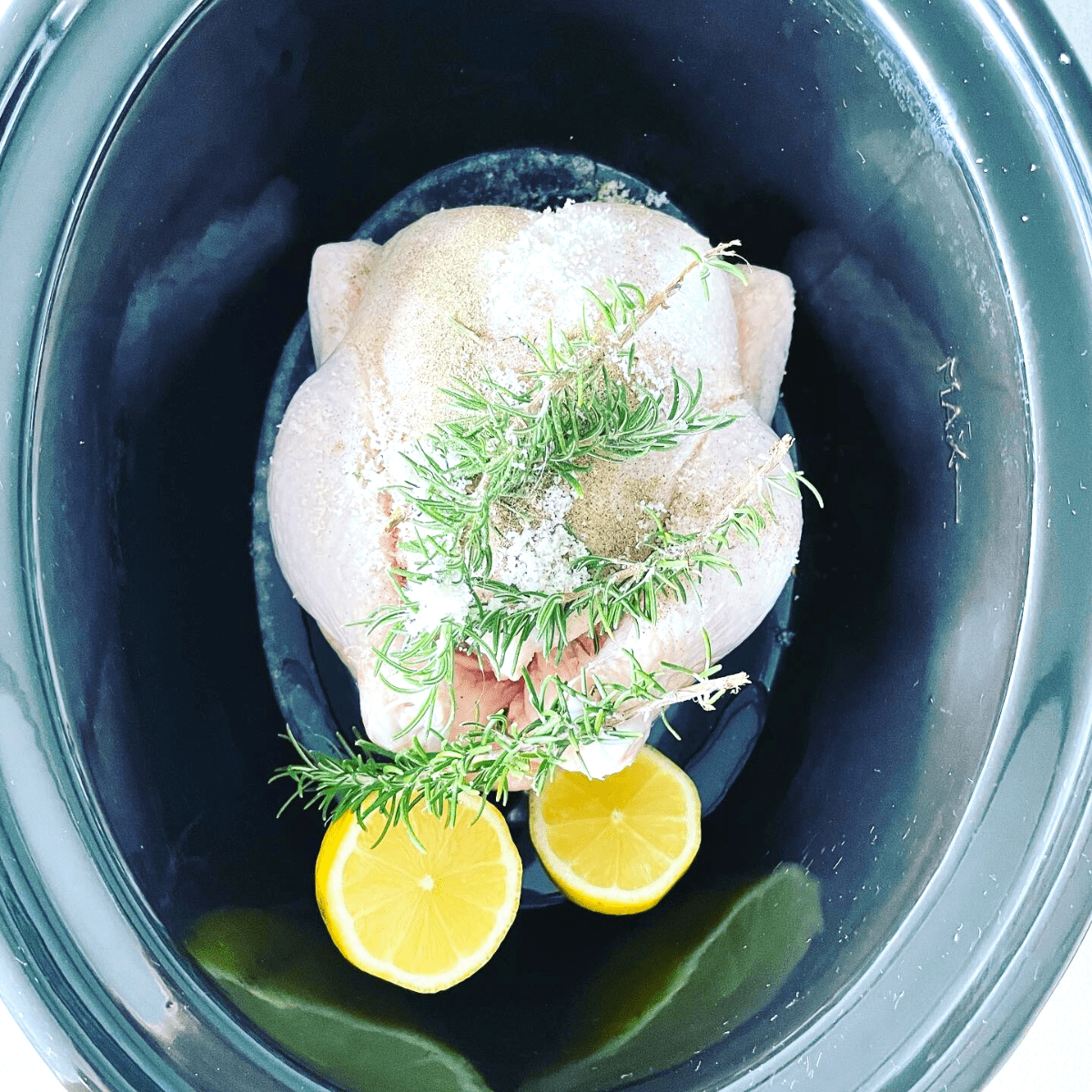 2. When the 8-hours is up, pull the chicken out and pick the chicken off the bones. I leave the bones to the side and I use that to make broth.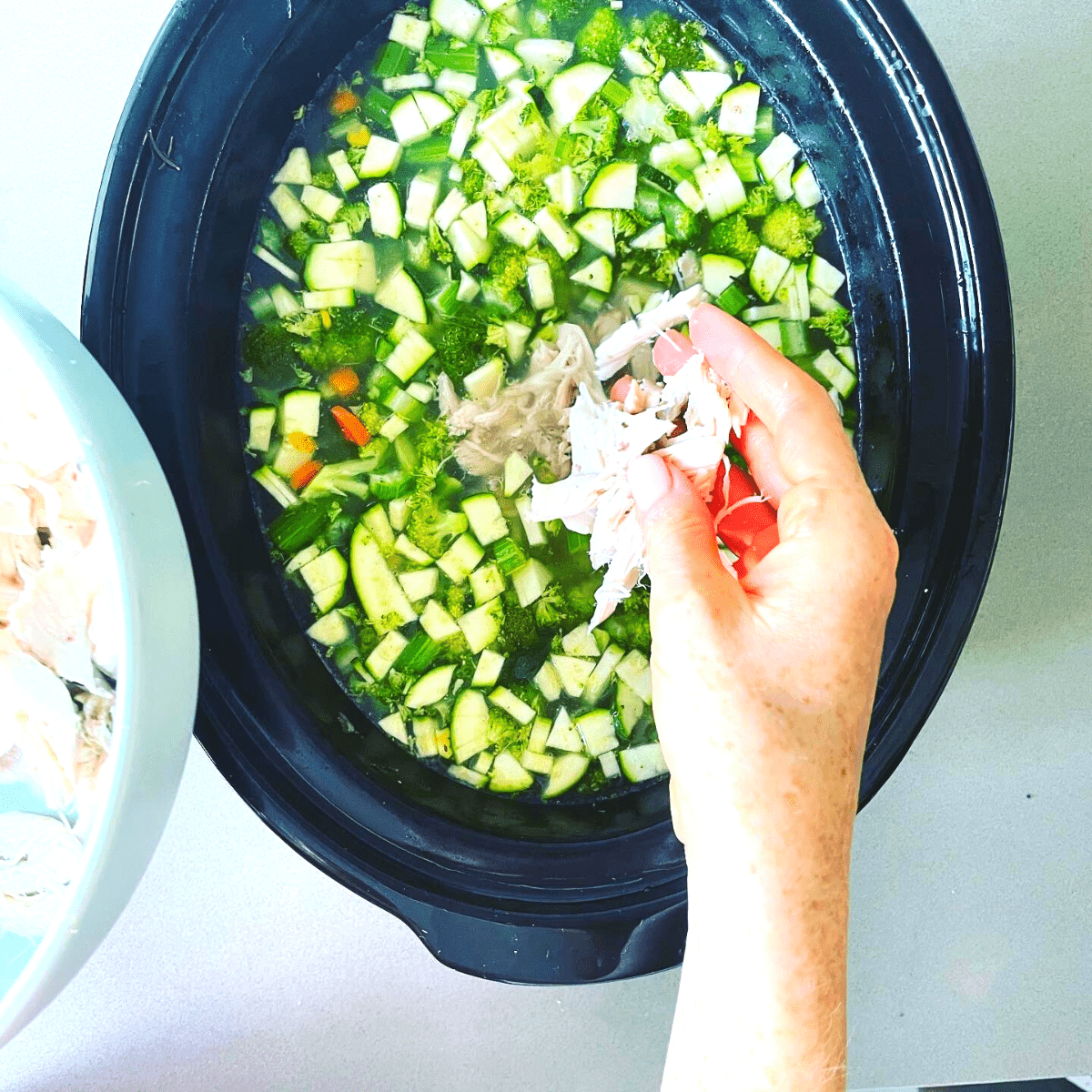 3. As you're pulling the chicken, pop your noodles straight into the soup to cook and put the lid back. This is a nifty way to save time and washing up!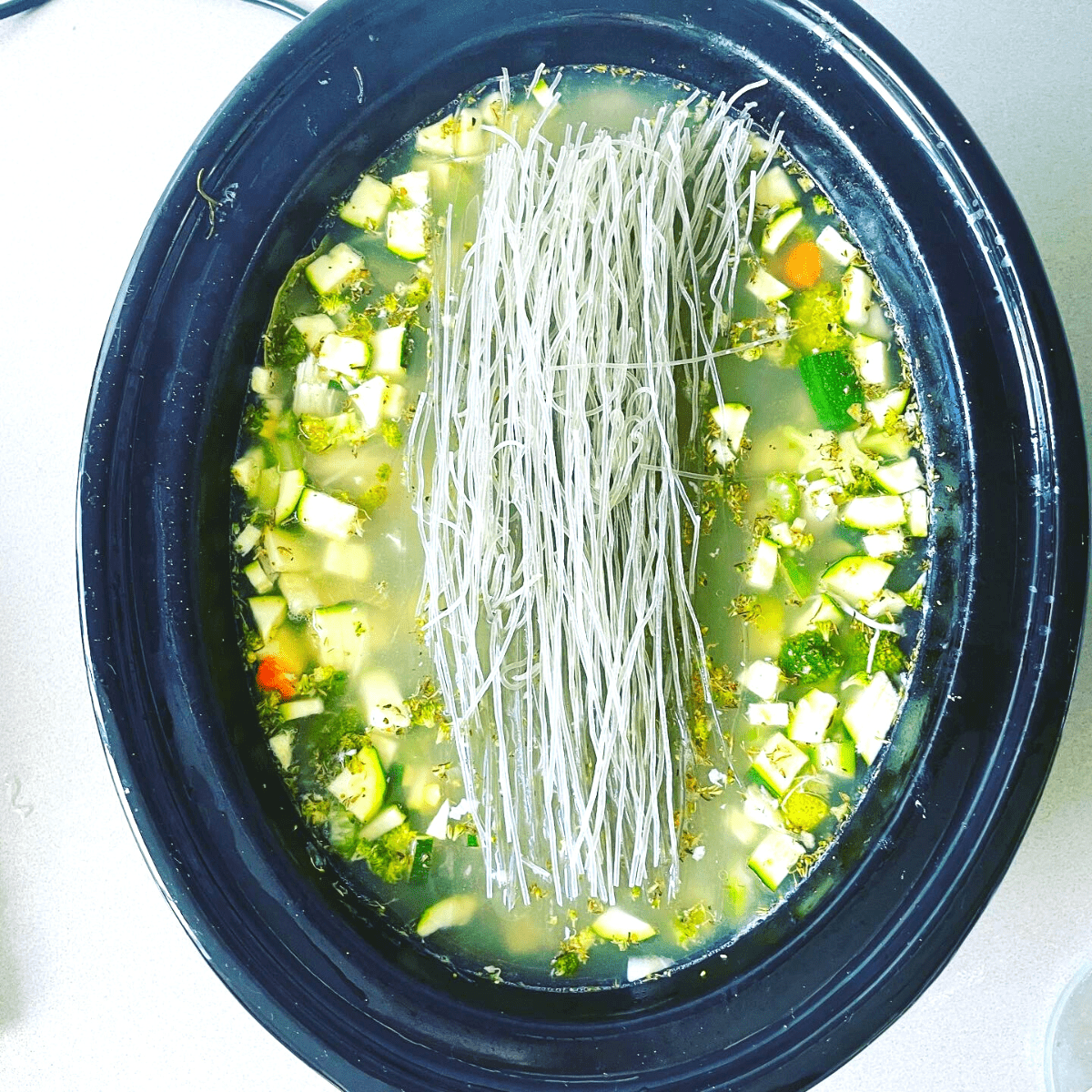 4. I like to finish with lots of herbs and a squeeze of lemon. Chilli is also ace, but I tend to add that into my own bowl so my little ones happily eat it.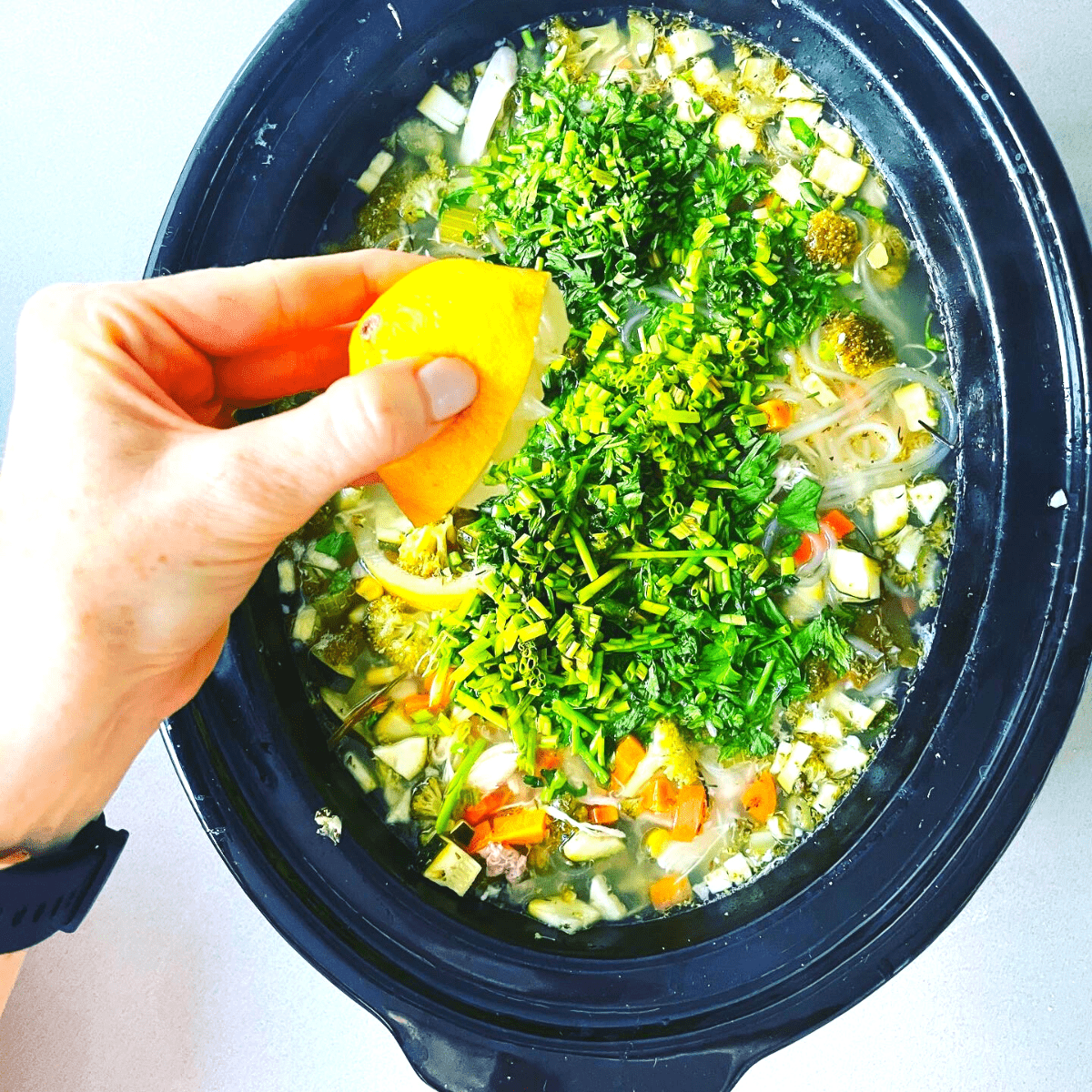 5. Serve & enjoy! It's so yummy and stores great in the fridge for a few days. My babes often take it to school with a lot of the liquid drained out, so it's more like noodles.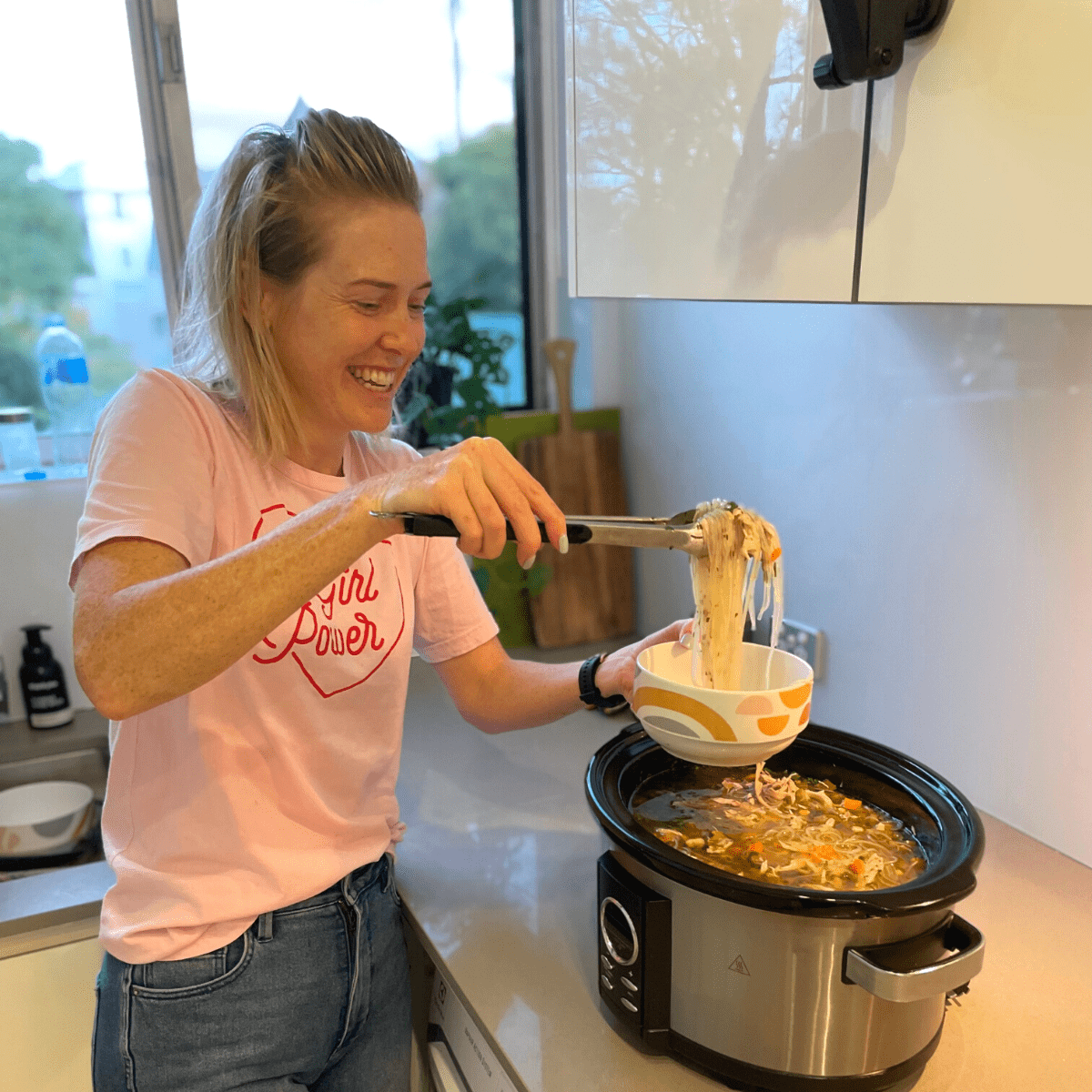 Print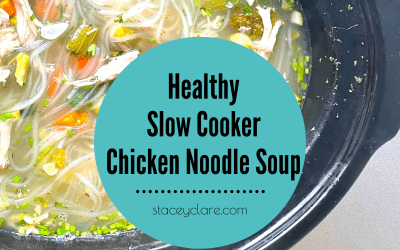 Healthy Slow Cooker Chicken Noodle Soup
---
Author:

Total Time:

54 minute
Description
Simple, delicious soup made so much easier when you can whack it all in the slow cooker and let it do it's thang. If I'm not feeling 100% I cook mine overnight and eat it for brekkie. It's SO good, especially with the sweet potato noodles.
---
1 whole chicken
1 bunch fresh thyme
6 cloves garlic
1 brown onion, diced
2 carrots, diced
2 zucchinis, diced
2 sprigs celery, diced
6-ish cups broth or water
2 tspn salt & 1 tspn pepper
To Serve:
200-300g noodles
420g tin corn kernels
1 bunch chives, diced
1/2 bunch parsley, diced
1 lemon, juiced
---
Instructions
STEP 1. Pop all your veggies, chicken and broth in your slow cooker. A quick note though, if your lemon isn't organic i.e it has a coating on it, please don't put it in. Leave it out and just use the juice at the end.
STEP 2. Fill your slow cooker with broth/water, leaving a 2cm gap from the top. Let it slow cook for 8 hours on low.
STEP 3. When the time is up, pull the thyme and chicken out. Dump your noodles straight into the slow cooker with the corn, and then put the lid back on while you shred the chicken.
STEP 4. When your chicken is shredded, and any leaves plucked off the thyme, stir them into the soup with the diced herbs. Have a taste and season accordingly. You may want some more lemon or a touch more S & P.

Notes
Allergy Tweaks:
GF: Use sweet potato noodles. I do, they don't go soggy in the soup and taste great.
FODMAP: Use garlic oil to fry off the green parts of the leak. The rest as is.
Serving Suggestions:
My kids like the 'liquid soup' in a cup and the noodle /veggie part in a bowl they can use their fork with.
And hubby and I love ours with extra lemon and a sprinkle of chilli.
Prep Time:

10

Cook Time:

8-hours