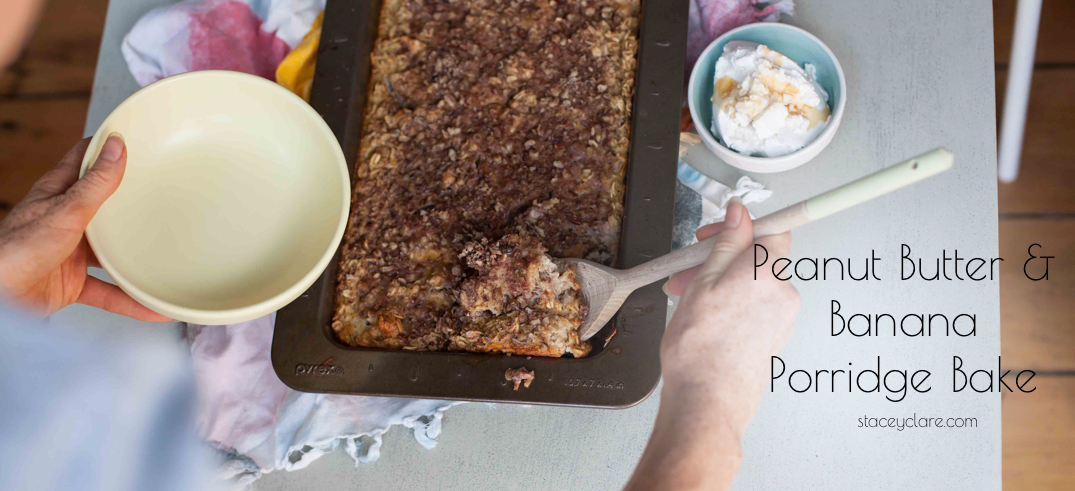 Peanut Butter & Banana Porridge Bake
SERVES 6 | PREP 10 Mins | COOK 30 Mins
This wholefoods Peanut Butter and Banana Porridge Bake is one of the most popular recipe from my' Stace's Quick & Healthy Breakfasts' recipe eBook. I love to make a big batch the night before so I can just lightly heat it on busy weekday mornings. On weekends, I'll make everything up and pop it in the fridge overnight ready to bake in the morning so we can enjoy it nice and warm. We love eating it cold the next day, the babes call it 'brekkie cake'. It even freezes a dream, just chop it in to portions for busy mornings.
Ingredients
2 cups of milk
2 eggs
¼ cup maple syrup (optional)
1 teaspoon vanilla powder
3 tablespoons butter, cubed
1/4 cup peanut butter
2 cups whole oats
2 bananas
1/2 cup nut meal, I use pecan
Method
Step 1
Pre-heat your oven to 180 and lightly grease a small casserole dish.
Step 2
Whisk the milk, eggs, maple syrup and vanilla together until well combined. Then stir in the peanut butter oats and cubes of butter.
Step 3
Add the mixture in to the casserole dish and mash the two bananas into the top of the oats and sprinkle with the nut meal. Bake in the oven for 30 minutes until 'set' to the touch and the bananas are lovely and caramalised.
Serving Suggestion
Great served with yoghurt, coconut cream and toasted nuts. And I especially love letting it go cold and slicing it up in to a 'breakfast cake' for morning tea.
Stacey Clare's Nutritional Tip
Don't be surprised if you don't eat lunch until 2p.m after having these oats, peanut butter and eggs for breakfast. It really fills you up! And if you're catering for an allergy
Egg free: Use 2 tbsp chia seeds and ¼ cup water. Stir together and allow to sit for a few minutes before it thickens. Then stir it through the oats
Nut free: Sub for seed butter and up the vanilla
Dairy free: Use your own non-dairy milk alternative and leave off the butter
Fructose free: Leave the bananas off and sub the maple syrup for rice malt syrup
Wheat free: But GF oats or sub them for rice or quinoa oats
Subscribe to the Stacey Clare - A Healthy Mum Newsletter
GET A FREE SNEAK PEEK OF MY 'A HEALTHY LUNCHBOX' EBOOK HERE. Sign-up to my newsletter to get your copy, it includes 10 recipes from my best-selling eBook.