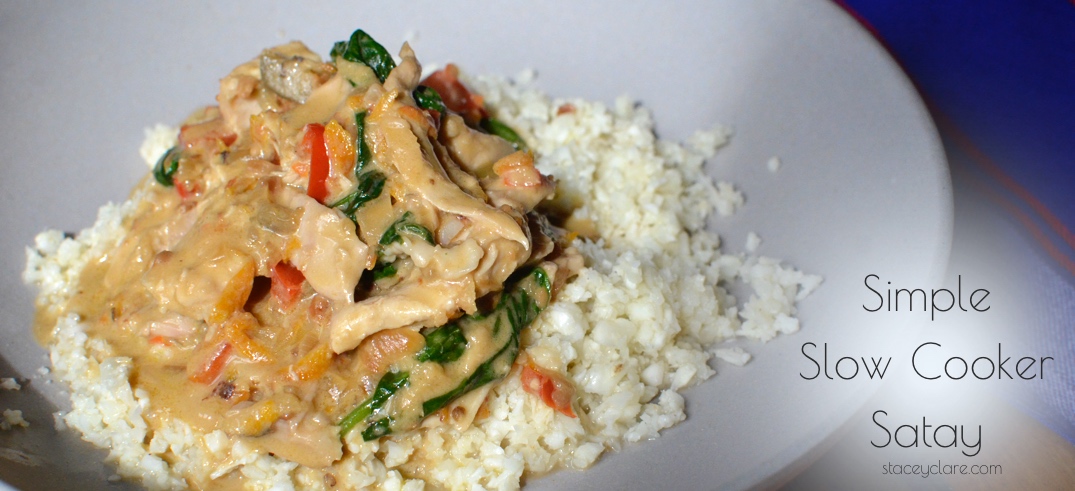 Simple Slow Cooker Satay Recipe
SERVES 6 | PREP 10 Mins | COOK 6 Hours
I'm gearing up for another round of my 4-week Meal Plan and this time I'm going to concentrate on really easy slow cooker meals and one-pan dishes you can pop in the oven and walk away. This super simple slow cooker chicken satay is just that. For me, slow cookers are my ticket to keeping organised and healthy in winter. This satay is packed full of veg and is so simple to make, you don't even have to cut the chicken. Give it a go and be sure to come over and join to the 4-week Meal Plan, we start really soon.
Ingredients
Satay
5 chicken thighs (500g)
1 large onion, diced
1 red capsicum, finely diced
3 garlic cloves, minced
5cm fresh ginger, grated
1 large carrot, grated
1 handful baby spinach
⅓ cup crunchy peanut butter
3 tbsp tamari or soy sauce
2 tbsp Worcestershire sauce
2 tbsp sugar of your choice
1 cup bone broth, stock or water
200ml coconut milk
S & P
Cauliflower rice
1 small cauliflower head
¼ cup broth
2 tbsp olive oil
Method
Step 1
Brown the onion, capsicum, garlic and ginger in a little coconut oil. If you're trying to hide the carrot and spinach from the fussy ones, add that in now so it has time to cook down.
Step 2
Add in all your sauces, including the broth and coconut milk. Stir to make sure all the chunks are gone and then pop your veggies (if they aren't in already) and chicken in. Cover and let cook.
Step 3
When the chicken is done, (it won't be pink in the middle anymore) pull it out and shred it before adding back the pan/cooker.
Serving Suggestion
To make the cauliflower rice: break the cauliflower head apart and pulse in your food processor until it looks like rice. Or, you can grate it if you find that easier. Lightly cook in a hot pan with the oil and broth (add it slowly, you may not need it all) stirring constantly until the cauliflower is just soft – about 1 minute. Serve with generous spoonfuls of the satay and any extra veg you may feel like on the side.
Stacey Clare's Nutritional Tip
Use up your leftover satay on top of a pizza. I often buy flatbreads and just pop it on top with a few extra veg and a generous sprinkle of cheese. It's the yummiest way to eat up leftover satay.
Allergy Tweaks
Peanut-free: Use macadamia or cashew butter
Vegetarian: Use 3 – 4 cups of veg. I love it with broccoli, carrots, pumpkin and lots of sugar snaps.
Alternative Cooking Timings
Pressure cooker – 25 mins
Slow cooker – 6 hours on low, or 3 hours on high
Cooktop – 45 mins