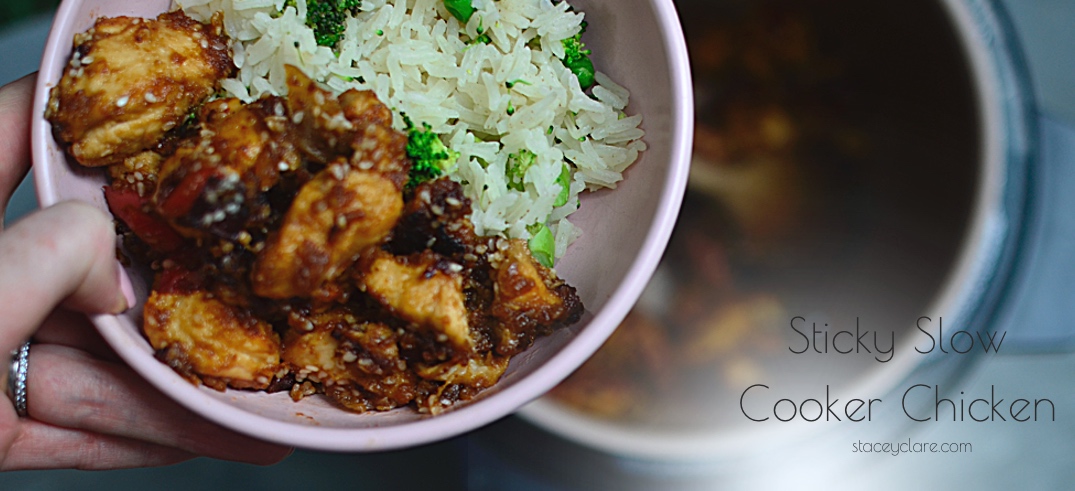 Sticky Chicken In The Slow Cooker & Pressure Cooker
SERVES 6 | PREP 10 Mins | COOK 4 Hours
This sticky chicken recipe made in the slow cooker or pressure cooker sure is a popular one. It features in my 4-Week Slow Cooker Meal Plan. and everyone raves about how much their family loves it. I make it mostly in my pressure cooker because I find the heat ensures there isn't too much liquid left afterwards and makes everything very crispy. But if you have a little more time, go ahead and make it in the slow cooker, just cook down any of the liquid if it needs it. Any leftovers are yummy for lunch popped in rice paper rolls, rolled in lettuce leaves or just as is. Pressure Cooker Timing = 13 minutes, Slow Cooker Low = 3-4 hours, Slow Cooker High = 1.5 - 2 hours
Ingredients
600g chicken breast or thighs, chopped
3 tablespoons corn or tapioca flour
1 brown onion, finely chopped
1 capsicum, finely chopped
4 garlic cloves
3cm piece of ginger, finely chopped
FOR THE SAUCE
¼ cup tamari or soy sauce
3 tablespoons raw honey
ON THE SIDE
1 cup of rice & 1 ¾ cups broth
100g frozen peas
100g sugar snap peas
½ head broccoli
Method
Step 1
In a bowl, toss the chopped chicken with the flour and a generous sprinkle of salt and pepper. Then, in a hot pan (or your slow cooker if you have that option), brown the onions, capsicums, garlic and ginger in a generous pour of oil or butter.
Step 2
Once the onions are brown, remove them from the pan and add the chicken in. You want to 'just' sear the chicken. Now add in the sauce ingredients and the chicken and onion mixture. Stir well to ensure the sauce is all over the chicken and pop the lid on to cook. If you can, give it a stir every so often so it doesn't stick. But don't worry about the ongoing stirring it if you're pressure cooking it, just give it a good stir when it's done.
Step 3
With 20 minutes to go, cook the rice in your bone broth. When it's nearly done, shred the broccoli through the rice and add the frozen peas. You'll be surprised how quick it cooks when it's in the hot rice.
Serving Suggestion
Then, when it's all ready to go, stir the sugar snaps through the chicken and serve with the veggie packed rice.
Stacey Clare's Nutritional Tip
Do go to the extra effort to serve your rice with the veg in it. It's a great way to get extra veg in, and also helps kids know that not everytime food is going to look the same. Sometimes the rice will have veg, other times some seeds and heck, even at times mumma might pop some powdered turmeric in and turn the rice yellow! All is ok, all is yum, all is healthy.