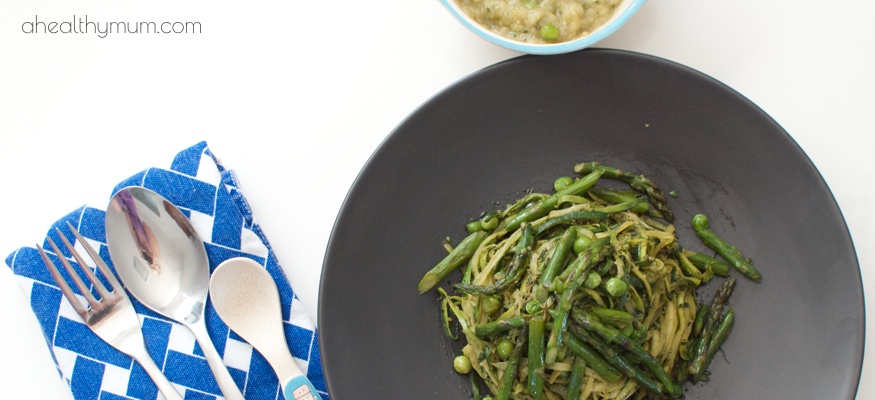 Vegan Kale, Basil and Walnut Pesto Pasta
SERVES 2 | PREP 15 Mins | COOK 2 Mins
A healthy twist on a pasta favourite. This gem is dairy and gluten-free, using zucchini instead of wheat-based pasta.
Ingredients
5 large zucchini, peeled
1 cup peas
1 bunch asparagus, chopped into 3cm pieces
75g activated walnuts
½ cup kale, shredded and tightly packed
¾ bunch basil leaves (about 30g)
⅔ cup olive oil
1 tbsp lemon juice
Pinch salt and pepper
Method
Step 1
Using a julienne peeler, julienne zucchini down to the seeds and set them aside. Steam sliced asparagus with peas until just tender.
Step 2
To make the pesto, place all remaining ingredients except olive oil into a blender. Start blending and add the olive oil in a slow, steady stream. Continue until desired consistency is achieved. If you like your pesto rather runny, add water instead of more oil.
Step 3
If you like warm pasta dishes, heat a little oil in a pan (coconut oil is perfect if you have it) and add zucchini. Cook for 1 minute to warm zucchini. You can leave it raw if you prefer your pasta to be more crisp.
Serving Suggestion
Stir pesto the zucchini and scatter the peas and asparagus on top.
Stacey Clare's Nutritional Tip
Typically pesto is made with parmesan cheese and laden with additives in order to stop the ingredients going rancid. By making this version, you'll save on the dairy and enjoy the benefits of the walnuts' healthy fats - they are great for your skin, digestion and brain function. The pesto stores well in both the fridge and freezer.