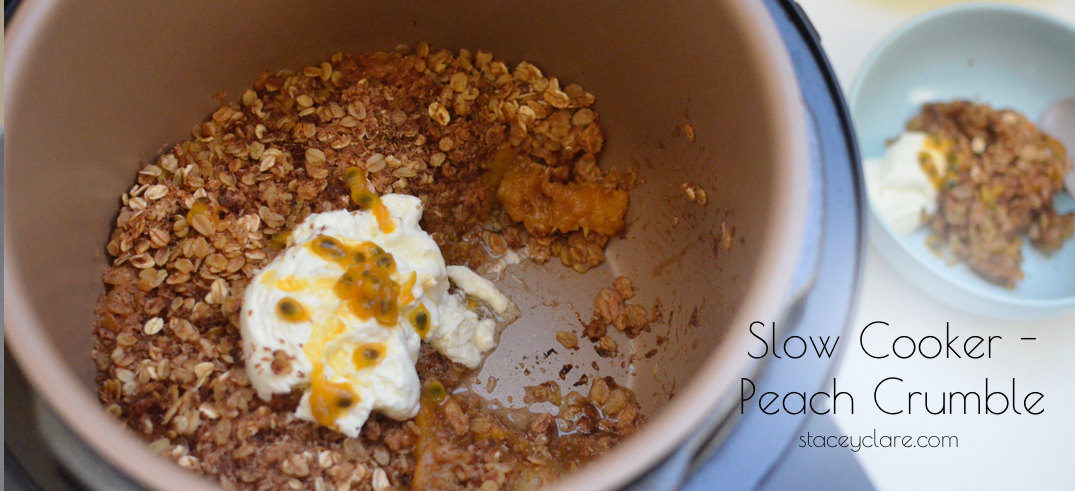 Slow Cooker - Peach Crumble Recipe
SERVES 8 | PREP 5 Mins | COOK 6 Hours
Typically slow cookers are used for main meals, but I say make dessert the show stopper and use your slow cooker to get you there. I often make this peach crumble during the day for that nights dessert or even overnight for breakfast the next morning. The beauty is if you use the Philips All-In-One, because you can cook it on the pressure cooking setting for 14 minutes or use the slow cooker function at it's perfectly done in 6 hours. If you want to try another great fruit recipe using your pressure or slow cooker, try the whole baked apples recipe here, it's really yummy.
Ingredients
12 peaches
1 cup oats
½ cup desiccated coconut
½ cup nuts or seeds
1 tsp cinnamon
3 tbsp cold butter grated + extra for topping
Method
Step 1
Cut the peaches into quarters and place in the all-in-one cooker bowl.
Step 2
Combine the remaining ingredients in a separate bowl and place on top of the peaches.
Step 3
Top with an extra tablespoon of grated butter. Bake for 14 minutes using the pressure cooker function or 6 hours on low using the slow cooker setting.
Serving Suggestion
Drizzle with passionfruit and Greek yoghurt.
Stacey Clare's Nutritional Tip
Whenever you eat sugar, even the natural (fruit) kind, try to eat it with a source of protein. It helps to keep you feeling full for longer and lessens the sugar crash. This recipe uses Greek yoghurt along with oats to pack the protein punch.