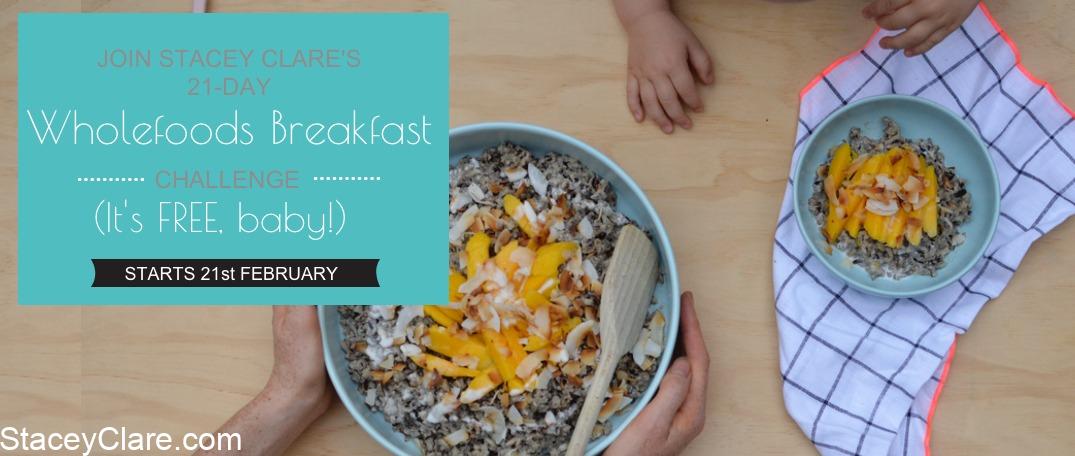 Are you looking for a bunch of family friendly wholefoods breakfast recipes? You're in the right place baby!
You've probably heard me say it a million times, but when you have a great breakfast, everything else just flows. I mean when breakie is healthy, you're a ⅓ of the way there to an awesome day of wholefood, healthy eating. Winning! So let me tell you about this awesome FREE challenge I'm running that I want you to be part of.I want to make sure I am helping you everything you need to make wholefood cooking, easy. In this breakfast challenge you'll see how good you'll feel eating a real, wholefoods breakfast in the morning. I'll cut the belief that making food from scratch in the morning is time consuming, hard and costly.
It isn't.
I can show you easy it can be.
I believe that when you get breakfast right, everything else flows. I've seen it for myself, my babes and husband. And, I have especially seen it in every single one of my private health and nutrition-coaching clients. It's the very first thing we change and after two weeks they all come back to their second session seeing HUGE shifts in their energy levels and the kids behaviour.
So, please scoot across here and join the FREE  (it totes deserves capital letters) wholefood breakfasts challenge and please send this blog post on to two friends asking them to join the challenge too. Yep, just two. Could you imagine the ripple effect we could have if this many people had the knowledge and motivation to pop a quick and simple wholefood breakfast on the table?
You've got this and I've got you. I can't wait for you to join me,
Stace x
Ps. Motivation will get you started, habit will keep you going.