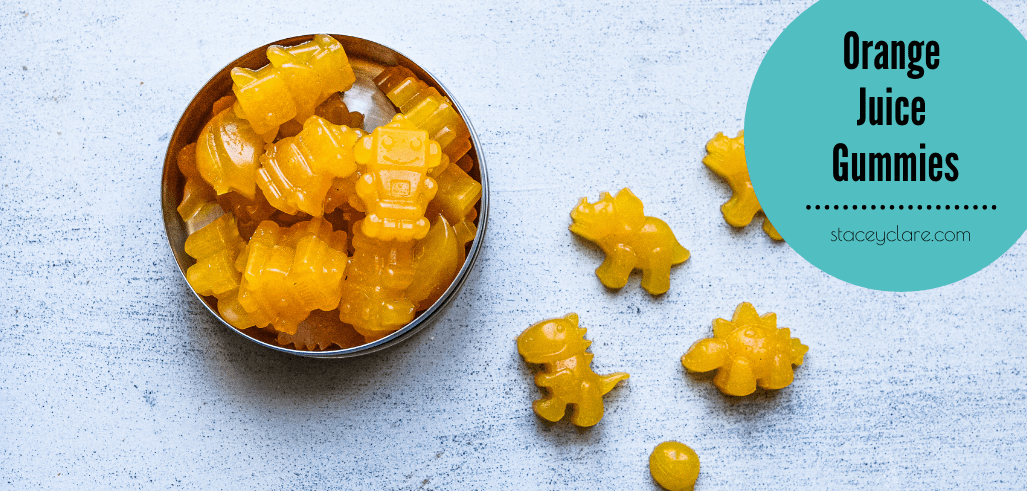 My kids LOVE these Orange & Kombucha Gelatin Gummies. They're seriously the simplest recipe + I even have a Thermomix Gummie method if you really want to speed things up.
I often switch in and out the juice, too.
Sometimes it's with apple.
Others watermelon and at times just straight Kombucha.
You decide.
Here's how to make my Orange Juice & Kombucha Gummies: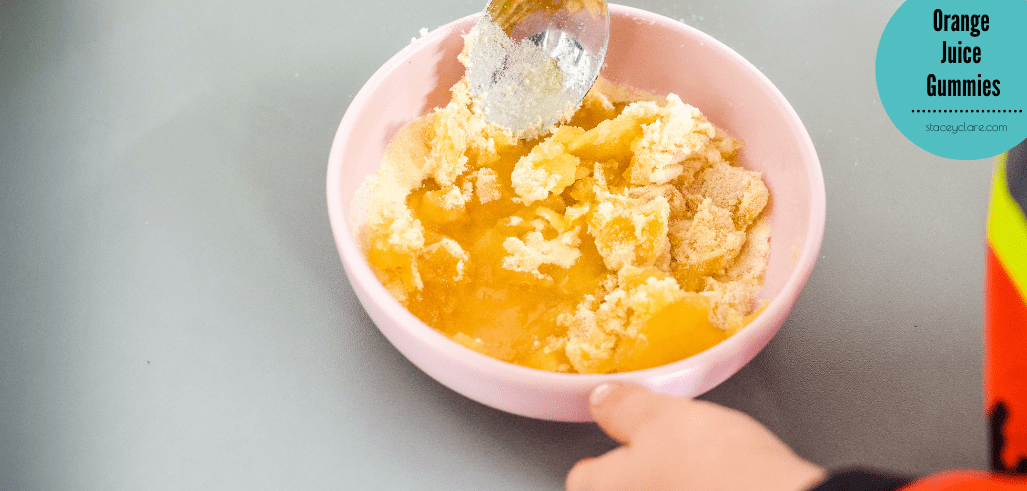 STEP 1: ' Bloom' your gelatin. A fancy-pants way to say mix your gelatin with a little water/kombucha and have it soften. 10-seconds of a quick stir and it's done.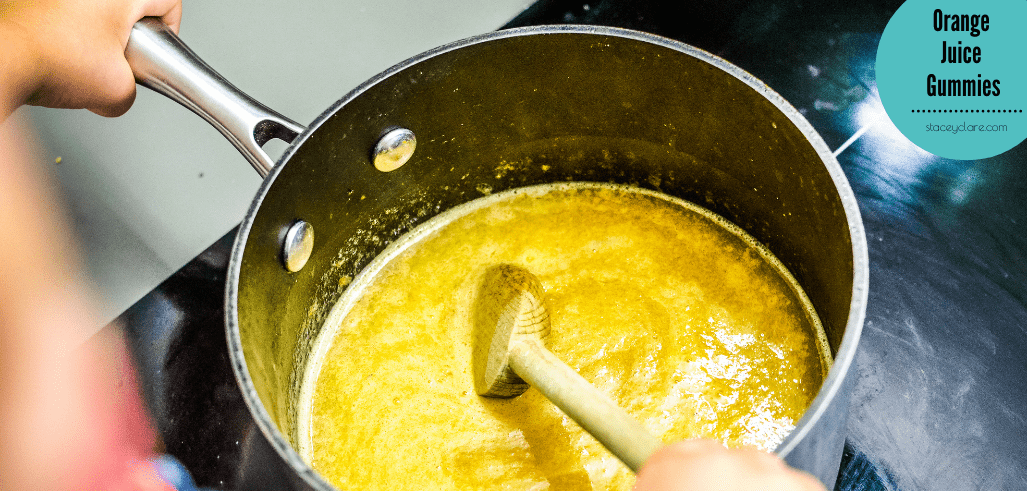 STEP 2: Lightly-lightly heat your juice and the gelatin until it has just dissolved. Don't add the Kombucha yet. And please don't over-heat this. A whisk and 2-mins at a gentle heat is all it takes. There will be no lumps of gelatin left in the mixture and that is your guide to knowing it is done.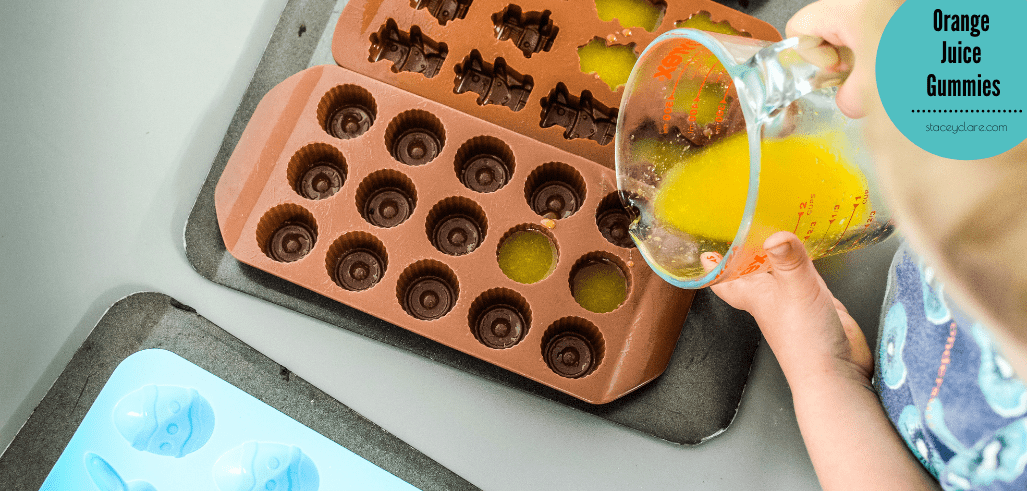 STEP 3: When the gelatin is dissolved, stir in the kombucha and then pour into your moulds.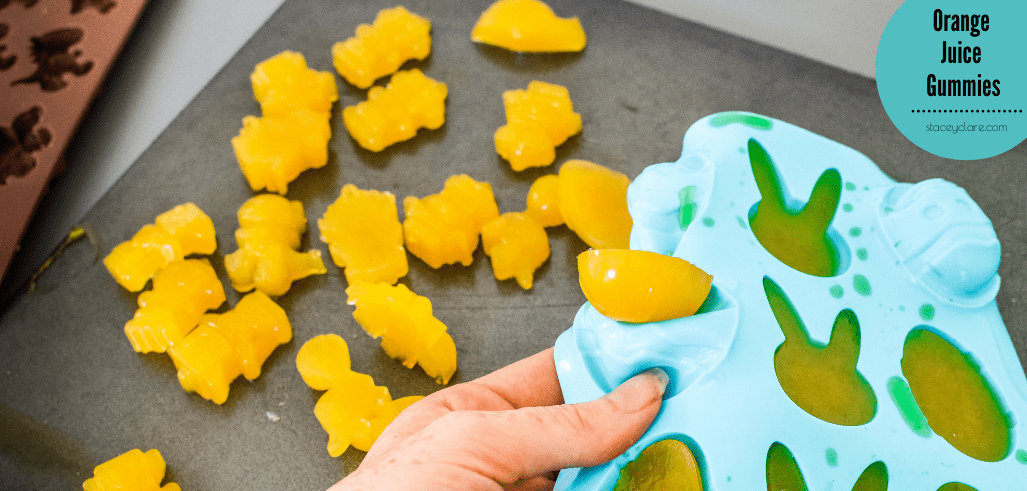 STEP 4: Pop them in your fridge to set for an hour or two and then pop the gummies out and store them in a glass container in the fridge.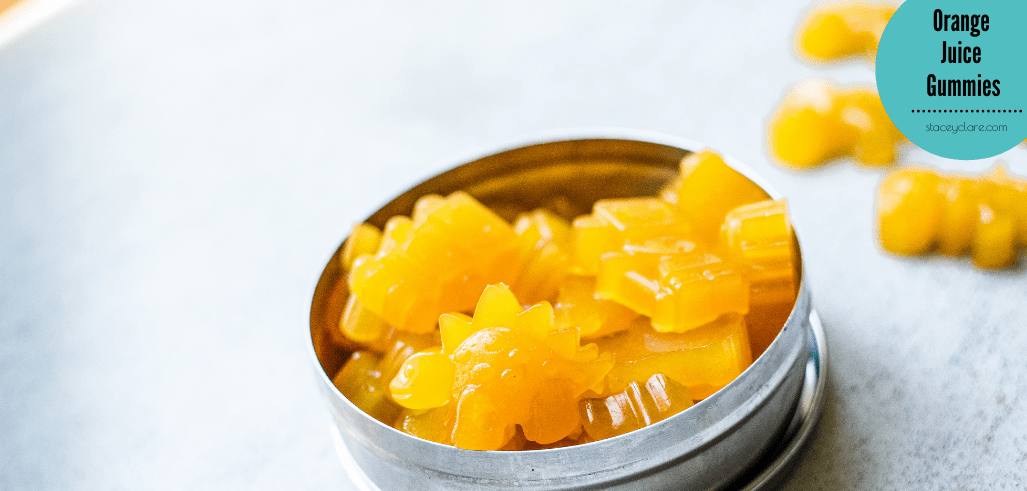 STEP 5: My kids LOVE taking these for school. In summer I up them in a steel jar the night before and add an ice brick to their lunchbox and they're a-ok.
I aim for a handful a day and of course, if your babe isn't having any ferments as yet, I'd start REALLY small and just check their belly isn't cramping etc. from it.
Note on Kombucha...
Make these with a flavour Kombucha you think your kids will like. Apple, Peach, Pink Lemonade are all great options. I make my own for about 1/5 of the price. I can teach you how to do that as part of my Fermenting Course.
Print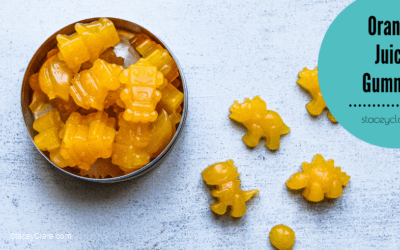 Orange & Kombucha Gelatin Gummies
---
Author:

Total Time:

3 hours 10 minutes

Yield:

30
Description
My babes love making these gut healing Orange & Kombucha Gelatin Gummies. The sweetness of orange juice and the fizz of the Kombucha is such a winner. They're a cinch to make, the fruit variations endless and boy-oh-boy will their bellies love you for making them. Take a read here of why gelatin is so great and check out the pics of us whipping them up, they really are SO EASY.
If you'd like to try some more flavours, check out my lunchbox eBook, I have a lovely berry on in there.
---
1 cup

cold-pressed orange juice

1 cup

kombucha + extra 1/3 cup (you can use water)

4

heaped tablespoons gelatin
Optional: 1 tbsp honey
---
Instructions
Pop the orange juice (and sugar if you're using it) in a saucepan over a low to medium heat. Meanwhile, pop the 1/3 cup of kombucha into a bowl and sprinkle the gelatin over the top. Give it a good stir so that it's all incorporated. This process is called 'blooming' your gelatin – basically making it soft.
Now, spoon the gelatin into the warm orange juice and stir until all the gelatin chunks are gone, this take less than a minute (if your juice is warm enough). Then, turn off the heat and pour in the kombucha. You're trying not to heat your kombucha too much because that will kill all the good probiotic bugs that live in it.
Really lightly grease your moulds with coconut oil or line a 20cm-ish Pyrex container with baking paper. Then pour the jelly mixture in. I re-use my measuring cup for this, so it doesn't get too messy. Pop the filled moulds/container in the fridge to set for 3 hours. Then, just push them out of the moulds or chop them into squares. Store them in a container in the fridge for 3-4 days.
4 tablespoons of gelatin will make the jellies nice and firm but they'll only stay that way if you keep them cool. So, if you want to send them to school/daycare (I do most days) make sure you have a freezer brick on the lunchbox and don't be afraid to use 4 heaped tablespoons of gelatin, that will set them really-really well.
Notes
Thermomix Instructions
Pop the orange juice and the 1/3 cup of water / kombucha in the bowl with the gelatin. Turn it onto 4 minutes, 37 degrees, speed 1. That will melt the gelatin. Pour the kombucha in with the orange juice now and stir for 5 seconds. Then pour into your moulds / container.
Which gelatin?
I buy the Gelpro Australian brand. I find it doesn't 'lump' together like the Great Lakes version does and is still grass-fed and organic. That's the key, you want to find the best gelatin you can, the stuff in the supermarket especially the 'gelatin leaf' really isn't worth your time. It doesn't have the goodness in there to help heal your gut. I buy the moulds from eBay (search chocolate moulds) and also Biome. The Kmart ones aren't great as they have plastic in them.
Prep Time:

10

Cook Time:

180