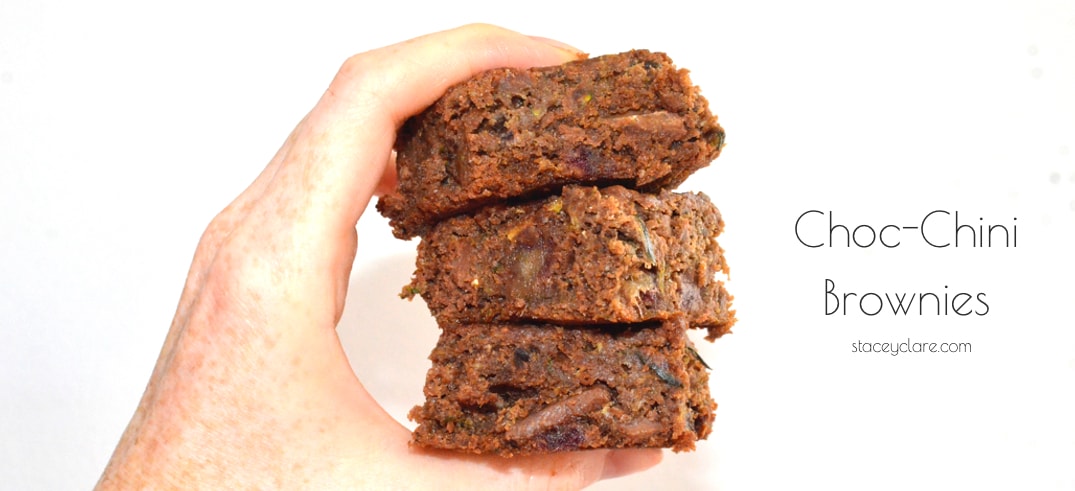 Zucchini Chocolate Brownies
SERVES 16 | PREP 15 Mins | COOK 35 Mins
I love sneaking veggies in to my chocolate brownies and these zucchini chocolate brownies are by far my families favourite. I often make a double batch and freeze them for lunchbox snacks. And if you're really wanting to save time, follow my instructions below for how to cook health chocolate brownies in the slow cooker.
Ingredients
225g zucchini, grated with skin on (about 3 medium size)
125g wholemeal spelt flour
50g carob powder
2 tsp baking powder
¼ tsp salt
2 tsp vanilla bean paste (or 2 vanilla beans, deseeded)
80g carob chocolate block, cut into chunks
1 egg
1 banana, mashed (optional)
125ml coconut oil
90ml maple syrup
85g dates, soaked (I use medjool dates)
Method
Step 1
Preheat oven to 180°C and line a brownie tin with baking paper. Grate zucchini and place it in a colander. Place a heavy bowl on top to weigh it down. This will remove excess water. Set zucchini aside.
Step 2
In a large bowl, sift spelt flour, carob powder, baking powder and salt. Fold in carob chunks. Cut a few dates into chunks and add to the bowl.
Step 3
In a blender, combine remaining ingredients and blend until light and fluffy. Pour wet ingredients into dry ingredients, add zucchini and stir to combine. Pour mixture into brownie tin. Bake until brownie has risen and a toothpick comes out just a little wet. This will take about 35-40 minutes.
Serving Suggestion
Place on a wire rack to cool for 10 minutes, then remove brownie from the pan. Allow it to cool completely before slicing. Personally, I like it best the next day as it has more flavour but I'll admit, it's seriously hard to resist.
Stacey Clare's Nutritional Tip
I often cook this in my slow cooker. Line your cooker with parchment paper and cook it on low for 3-hours and then remove the lid for the final 30 mins or so. I LOVE this more then second day, served straight from the freezer.