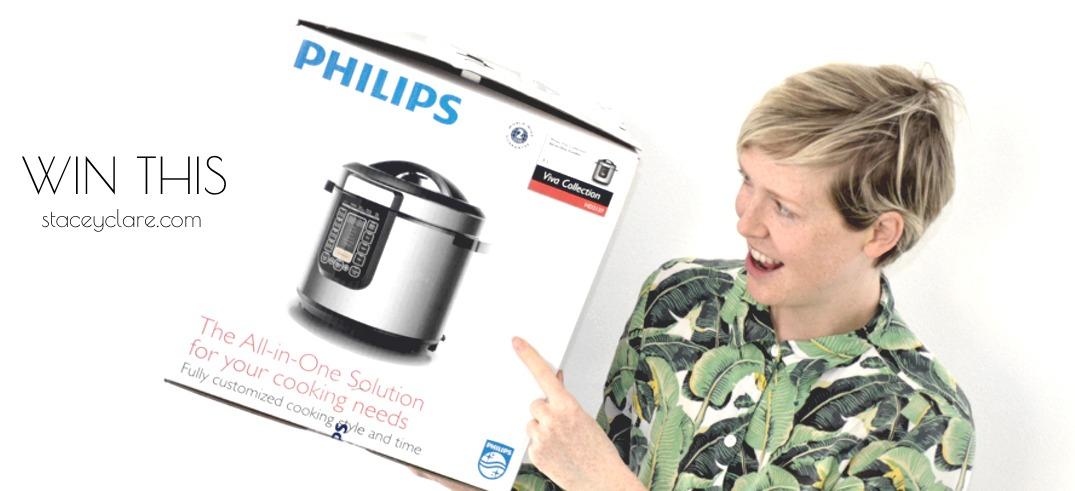 My blog has really grown since the early days. Now there are thousands (well actually tens of thousands) of you visiting every month for healthy recipes and to hear about my very real and honest approach to nutrition for my little family.
There's one wee problem though…
I don't know which posts you love.
I don't know which recipes you've cooked that have rocked.
And heck, let's be honest, I'm dying to know if you've tried a recipe and it was a flop.
Why do I want to know this? Because it helps me give you exactly what YOU want! So, when you get a moment to yourself pop over to my blog or recipes pages and leave me a comment on a post (or two or three) and you have the chance of winning this amazing 'All-In-One Cooker' from Philips (It's a slow cooker and pressure cooker all-in-one, genius!) If you need some memory-joggers of some of my popular posts:
Take your pick and PLEASE leave a comment. I really, really hope this commenting process will inspire you to leave comments in the future because it's one of the only ways I can get feedback. I am so keen to know what you think because I am so grateful for you visiting my site.
Scoot on over and leave a few comments now. Go on. DO IT, DO IT, DO IT because on 30 September I'll be picking one blog comment at random to win this awesome $200+ All-in-One Cooker from the awesome team at Philips. This slow cooker is so awesome that I've had 8 health-coaching clients buy this exact machine. They are all hooked. I am taking it for a test run tonight with my breakfast rice pudding recipe. I'll be sure to report back, in the comments that is 😉
Stace x
T & C's
This is a game of Skill.
1. Information on how to enter and prizes form part of these terms and conditions of entry (Terms and Conditions). Entry into the Competition is deemed acceptance of these Terms and Conditions.
2. The Competition commences on at 08:00am (AEDT) on the 9 September 2015 and concludes 17:00pm (AEDT) on 30 September 2015.
3. Entry is open to all residents of Australia 18 years and over. Up to 3 entries per person is permitted.
4. Entrants are required to follow the instructions at the point of entry to be eligible - leaving a comment on your favourite blog post or recipe.
5. The Promoter reserves the right to verify the validity of entries and to disqualify any entry which, in the opinion of the Promoter, includes objectionable content, profanity, potentially insulting, inflammatory or defamatory statements, any content which infringes the rights of another person (including intellectual property rights or rights of privacy or confidentiality), disqualify any entrant who tampers with the entry process, who submits an entry that is not in accordance with these Terms and Conditions or who has, in the sole opinion of the Promoter, engaged in conduct in relation to the Competition which is unlawful, fraudulent, misleading, deceptive, improper or generally damaging to the goodwill or reputation of the Competition and/or Promoter. The Promoter reserves the right to disqualify a winner if the Promoter becomes aware that the winner and/or the winner's entry is of a type described in this clause. Incomprehensible, incomplete and/or otherwise indistinguishable entries will be deemed invalid.
6. Final entries must be received by17:00pm (AEDT) on 30 September 2015.
7. Entries not completed in accordance with these Terms and Conditions or received after the closing date will not be considered. The judge's decision in relation to any aspect of the competition is final and binding on every person who enters. No correspondence will be entered into.
8. This is a game of skill, so each entry will be judged on creativity and ingenuity. Based on these criteria a judge will deem the most interesting and inspiring entry and a winner will be selected from the pool of entrants. Winner will be announced at midday on the 1st October on my blog - www.staceyclare.com
8. If a winner cannot be found a second chance draw will take place 5 days after the closing date.
9. Judges decision will be final and no correspondence will be entered into.
10. The winners will be notified by a reply to their comment which will link directly to their email within one business day of the draw. If a second place draw is required winner/s will be notified through the same means.
12. The Prize will be delivered within Australia only